« Obama on 60 Minutes, Punch Drunk
|
Main
|
Foreign Policy Gaffe Machine Strikes Again; Obama Sends Note to Chirac Pledging Friendship, Working Relationship »
March 22, 2009
Overnight Open Thread: Which Always Insists Upon Itself (genghis)
In light of what happened earlier today, I'm calling out Dave in Texas for being…in Texas. What could possibly be more sick and wrong than that? Simply disgusting.
Meanwhile, CNN would like us to know that Superheroes Arise in Dark Times. The article attempts to create an analogy between the Great Depression and our current economic troubles using the rise in popularity of comic book/movie superheroes.

"America faces an economic calamity. Trouble brews in faraway lands. Sound familiar? More than 70 years ago, the very first superheroes debuted in the dire times of the Great Depression and the early years of World War II. Their names became legend -- Superman, Batman (or, as he was then known, the Bat-Man), Wonder Woman, Captain America -- and they're still with us today."
Ok, I'll grant that superhero movies are popular at the moment (of course they were also popular over the past few years as well, during better times). However, take a look at this quote and see if you can spot anything…odd:
: "We were just emerging from the Depression," Robinson recalls. "Superman started in 1938. Batman started in 1939. So, we were just recovering."
So in a stretch that
Mr. Fantastic
would be proud of, the author of this article does his best to tie the pieces together. So the Great Depression gave rise to comic book heroes? Just as it was ending, nearly a decade after it started? Or could it've been something else that might've started up around 1938 or 1939?
I can't think of anything offhand.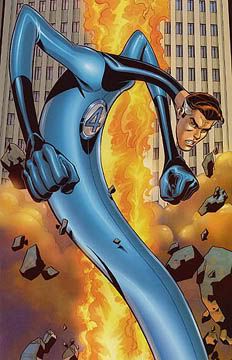 "I got a New Deal for you right here pal…"
Notice: Posted by permission of AceCorp LLC. Please e-mail overnight open thread tips to xgenghisx@gmail.com. Otherwise send tips to Ace.

posted by xgenghisx at
08:46 PM
|
Access Comments