« Politico: GOP "toothless" minority
|
Main
|
Overnight Open Thread. "Economy Ends: New York Fashion Week Hardest Hit." (genghis) »
February 13, 2009
Happy Valentine's Day!
Well, almost. There's still time to go out and get something special for that certain special someone.
It's Friday night and if I had an actual life or something I'd be doing, something. Instead I'm sharing it with you. So I got to wondering, you morons, what's the worst Valentine's Day gift you ever gave someone?
Mine was a roll of paper towels.
No shit. A roll of paper towels. They had hearts on them, and I put a little bow on it and thought it would be cute.
That's what I thought. I thought that.
...
Anyway, if you're gift-stumped, you can find some nice card selections here, like this one: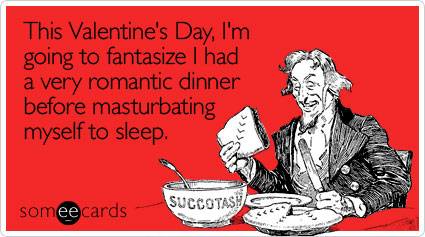 Okaaaay, I wouldn't really do that.

I mean, there's no way I could keep going till I fell asleep.


posted by Dave In Texas at
09:23 PM
|
Access Comments