« Daschle...Yeah, Sorry About That Tax Thing UPDATE: Obama Still Supports His Guy
|
Main
|
Obama...Let's Not Let Details Get In The Way Of My Gigantic Spending Plans »
February 02, 2009
Obama's White House...It's Like Jimmy Carter (Without The Sweaters)
Obama won't turn the thermostat down but he's creating an atmosphere in the White House like Carter's more and more every day.
He's ditching Hail to the Chief and downsizing other trappings of the office.
"He's not a 'Pomp and Circumstance' kind of guy," says press secretary Robert Gibbs of the new president.
What Obama, like Carter before, doesn't get is it isn't about him. Yeah, he's some guy from Chicago (by way of Hawaii, Indonesia and wherever) but right now in everything he does he's the living, walking embodiment of the United States of America. He may think he's being cool and hip but eventually Americans will grow weary of seeing the symbols of the United States made small.
Think I'm wrong? Well it happened before.
From the very start of his presidency, Jimmy Carter attempted to make the office more personable and accessible: he walked along the inaugural parade route, ended the playing of Hail to the Chief, and carried his own luggage. Elected largely on his promise to never lie to the American people, Carter soon seemed out of place in the vastness of the presidency. Events conspired to further impede his progress: rising energy costs, high unemployment, Americans held hostage in Iran, Soviets in Afghanistan. A man of peace who took pride in bringing together age-old antagonists, Carter was finally viewed by his countrymen as lacking presidential stature.
And that's from a PBS bio!
Like Carter before him, his act will wear thin. Unfortunately, the country will pay a steep price for it's temporary infatuation.
More: As several commenters remind me, Obama wasn't always adverse to a little unearned pomp and circumstance.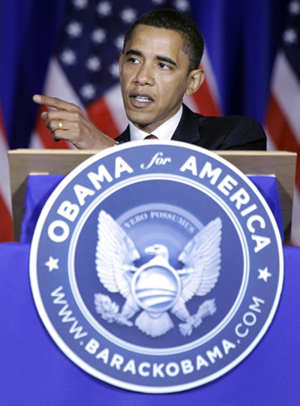 posted by DrewM. at
11:54 AM
|
Access Comments