« DEMOCRATIC Governor Rod Blagojevich Convicted And Removed
|
Main
|
General Petraeus To Be Honored at Super Bowl; Will Participate in Coin Flip with Lynn Swann (R) and John Elway (R)
Added: NBC Refuses to Run Utterly Innocuous Pro-Life Ad »
January 29, 2009
Hypocrisy Overload...Obama Attacks Greedy Wall St. Types With Noted Tax Evader Mistake Maker Next To Him
You can't make this crap up (sorry, it's a NY Times link)
President Obama fired a warning shot at Wall Street on Thursday, branding bankers "shameful" for giving themselves $18.4 billion in bonuses as the economy was spinning out of control and the government was spending billions to bail out many of the nation's most prominent financial firms.

Speaking from the Oval Office with Treasury Secretary Timothy F. Geithner by his side, Mr. Obama lashed out at the industry over a report, compiled by the New York State comptroller, Thomas P. DiNapoli, which found that over all, financial executives received the same level of bonuses as they had in 2004, when times were more flush.

It was a pointed and unusual flash of anger — if a premeditated one — from the president, and it suggested that he intended to use his platform to take a hard line against excesses in executive compensation.
This is one of the most annoying parts of bailout mania (and there are a lot of them). Normally I'd be all over this type of populist crap but when they've already gotten hundreds of billions of tax payer dollars and may be in line for even more, it's kind of hard to defend them.
Still, it's a little too much to listen to Obama blather on about 'shameful' behavior sitting next to Geithner. Of course, it's rather impolite to note this so the MSM won't bother doing that.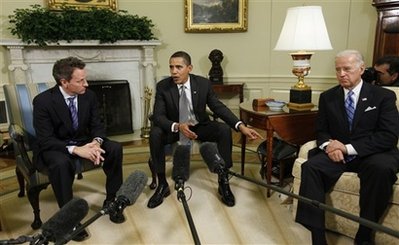 "Shameful"

posted by DrewM. at
06:20 PM
|
Access Comments