« Inaugural Address Thread
Liveblog Added
|
Main
|
"An Extraordinary Speech, No Other Way To Describe It" -- Andrea Mitchell »
January 20, 2009
A New Pledge For A New Era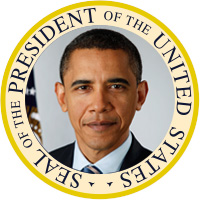 I pledge allegiance to Obama, the greatest President ever and the country he rulz. One movement, under Him. Indivisible, with hope and change for all.
God, it's good to finally be able to love this country. No, not this country... My country! Our country! His country!
What's Your Pledge? [Ace]: Celebrities are making pledges. To smile more, to be better parents. (Things which they apparently could not do when the GOP held the White House, the bitter misogynist neocon AllahPundit snipes.)
What are your pledges? In what tangible ways will you serve our new (first?) President?
MySpace Celebrity and Katalyst present The Presidential Pledge

posted by DrewM.from52to48withlove at
12:34 PM
|
Access Comments