« Resolution to repeal 22nd's presidential two term limit submitted
|
Main
|
Open Blog/Open Thread »
January 18, 2009
NFC Championship Game Open Thread
Eagles at Cardinals. Meh.
I was going to forgo the cheerleader shot because it's not that exciting a game and the coming Obamalypse is already wearing thin but I don't want to give the idiots the satisfaction. So without further a do...a woman you will pick apart but who wouldn't talk to one of you on a dare.
Actually, a bit of further a do...allow me to add to Gabe's earlier congratulations to Small Dead Animals for their victory in the Weblog Awards. As for you morons who didn't vote in sufficient numbers for the HQ, punishments will be forthcoming.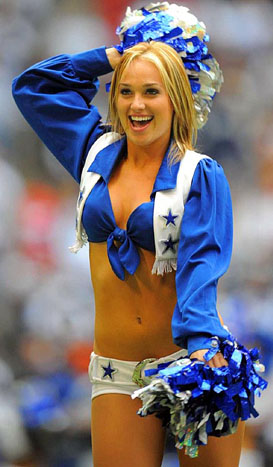 posted by DrewM. at
02:46 PM
|
Access Comments