« Cute Christmas Vid
|
Main
|
Emanuel Talked to Blago About Keeping His House Seat "Warm" For Him with an Interim Congressman »
December 24, 2008
A Tale of Two Workouts
Bumped and Updated by Ace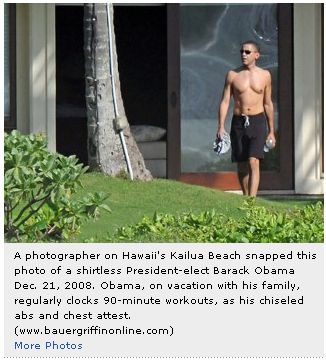 The story wonders how photographers were allowed to take such good pictures despite the Obama security detail. The likely answer: because the Obamas wanted the pictures taken. Helps with the whole "New Camelot" image.
Still, I wonder whether the press will refer to Obama's 90-minute workouts as a creepy, indulgent obsession?
Yes, that's a rhetorical question. I'm no longer surprised by the media's double-standards. I'm just looking forward to the day they're no longer allowed to get away with it.
Cult of Personality [ace]: Not to be all fascism-yelly, but the fact is that fascist cults of personality routinely offer up their Dear Leaders as idealized physical perfections. We see this with Putin, often photographed shirtless and shootin' bears or demonstrating his mad judo skillz. Mussolini was hailed by his admirers as a man who wore out a different horse every day, and a different woman every night.
Kim Jong-Il was reported to have achieved a whole host of ludicrous athletic feats, including, impossibly, scoring something like a thirty-six in an eighteen-hole round of golf.
So we have here a guy in so-so shape, not fat, but also not especially well-muscled, with a bit of a man-boob situation being praised, in an "objective" media source's report, as having "chiseled abs and chest."
As Slublog notes, the game is played selectively. George Bush's fitness routine was a weird obsession; Obama's is simply the necessary process for becoming the Ultimate Male (cf. "Thunderlips").
Bush was never slobbered over by the media for having an extraordinarily low resting heartbeat, nor for being in what appears to be near-peak physical condition for his age. On the other hand, the smoker Obama is hailed as a deity for having moobs.
Note also the differing reactions to physical attractiveness -- Sarah Palin was derided as a beauty-queen chillbilly Caribou Barbie for being kinda awfully hot. But the media indulges its id when it comes to Obama.
Some Snark:
That's one dull chisel.

--red speck

I'll be in my bunk.

-- Chrissy Matthews

posted by Slublog at
01:51 PM
|
Access Comments