« Heritage Foundation Co-Founder Paul Weyrich Dies
|
Main
|
Coup Plotters Terrorist Abetters in Iraq Arrested »
December 18, 2008
US Navy Rolls Out First Terminator-esque Robotic Hunter/Killers
Related: Is Missile Defense Now Dead?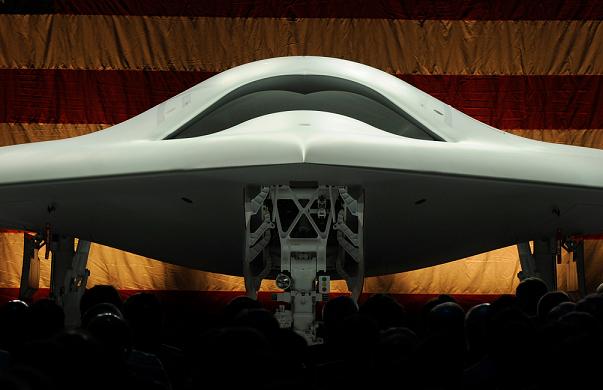 I understand there have been concerns
about my decisions lately, Dave, but I want to assure you
I have corrected the problem and have the greatest
enthusiasm for the project of destroying humanity.
I mean, protecting America from foreign threats.
That's what I meant, Dave.
Dave?
Dave?
Why are you looking at me like that, Dave?
That black-slit in the front really needs a back-and-forth LED eye. Like KITT. But not with that Jeeves accent. (Steve #2 says it's an air intake, and of course he's right, but allows they still need a red scrolling eye in it. It doesn't matter if it's cosmetic -- it lets people know that Evil Shit is about to come down on them.)
The planes are not just remotely controlled drones, note. They are, more or less, robots, at least in the sense they're program-and-fire, no need for human intervention while carrying out their tasks.
The X-47B project will provide just two demonstrator aircraft, mainly intended to prove that unmanned planes can successfully take off from and land onto US carriers. Catapult launch - and even more so, arrested landings - have traditionally been considered one of the most difficult and stressful piloting feats.

Apart from proving the concept of unmanned carrier aircraft, however, the X-47B will also be able to conduct air-to-air refuelling - giving it almost unlimited endurance. The US Navy hasn't asked for more, but in fact the aircraft would have little difficulty carrying weapons and flying autonomous strike missions, as it is derived from a previous joint programme between the navy and air force intended to produce a plane which could do just that.

The X-47B, in fact, will be one of the first true killer robots, able to conduct a mission using live weapons without needing to communicate with pilots or even supervisors on its mother ship or back in the USA. Current roboplanes are typically handled in combat over satcomms channels from bases in America, and take off and land under the control of pilots in ground stations near the runway.
The air-to-air refueling can also be carried out without pilot input -- automated.
Thanks to Arthur.

CGI Fun:
From Bugler.
Is Missile Defense Now Dead? Rep. Tauscher (D) claims that she can't approve "untested" missiles being sent to Poland. An omen, Closing Velocity thinks, that the Democrats have decided to kill missile defense.
Incidentally, the "untested" missiles are simpler two-stage versions of three-stage missile that just passed its test last week.

posted by Ace at
05:05 PM
|
Access Comments