« Claim: Informant Says Blago Ran Illegal Gambling Operation in the 70s
|
Main
|
Top Headline Comments 12-17-08 »
December 17, 2008
Cyanide-Producing Dragon Millipede!!!
Cyanide-Producing. Dragon. Millipede (genghis)
According to the WWF (World Wrestling Federation) via CNN, the Mekong Delta is a 'Treasure Trove' of more than 1,000 newly discovered species. Good on them! That'll more than make up for the loss of the polar bears (unless the nearly extinct, or so we're told, polar bears become reverse "boat people," er, "boat bears" and paddle their way to 'Nam and become jungle bears.)
Some additional examples of the charming creatures the wrestler-biologists found:

"(CNN) -- A rat believed to be extinct for 11 million years, a spider with a foot-long legspan, and a hot pink cyanide-producing "dragon millipede" are among the thousand newly discovered species in the largely unexplored Mekong Delta region."

"Perhaps a more startling discovery than the rat was a bright green pit viper scientists spotted slithering through the rafters of a restaurant in Khao Yai National Park in Thailand."
Oh, bullshit. When I go to a Thai restaurant I expect to see a pit viper slithering through the rafters. If I don't, I automatically deduct 1 ½ stars from my online reviews. Of course, CNN places this story under their "PLANET IN PERIL" section, so I guess discovering new species, no matter how hideous and disgusting, yet fun to place in the office suck-up's desk drawer, is a bad thing.
"The Fund dubbed the Mekong a "biological treasure trove." The organization's report "First Contact in the Greater Mekong" says 519 plants, 279 fish, 88 frogs, 88 spiders, 46 lizards, 22 snakes, 15 mammals, four birds, four turtles, two salamanders and a toad were found. "
And a partridge in a palm tree. Or whatever kind of trees still infest 'Nam. (Insert Agent Orange joke here) . Here's a pic of our newfound millipede friend/feather boa: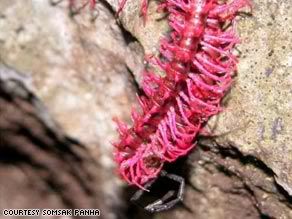 "Yes, you're a pretty boy! Girl? I could just cuddle you all day!"
Unfortunately, they found something else in the jungle. That's revealed below the fold.
"There's a reason they call it a 'Face-hugger,'…it luffs u!"
And while looking for "Aliens" pics I ran across
this,
which is probably ancient, but who cares. An "Aliens" chess set? Want! Who wouldn't? The only thing I can think of that can top that is a "Warriors" chess set. Which probably exists somewhere. If not, I plan to patent it.

posted by xgenghisx at
12:55 AM
|
Access Comments