« Obama-Blagojevich Timeline
|
Main
|
Axelrod Endorsed Blagojevich-Style Politics in 2005 »
December 10, 2008
Report: Rep. Jessie Jackson Jr. (A DEMOCRAT) Is "Senate Candidate #5"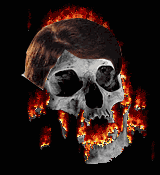 Slubog's cool-ass Blagoskull added [ace]
And what did "an associate of Senate Candidate #5" allegedly offer to raise for Blagojevich if he got Obama's old Senate seat? A cool one milllllllion dollars!
Senate Candidate #5" played a key role in the Governor's efforts to obtain something of value in exchange for the Senate appointment, according to the FBI affidavit.

According to the affidavit, Blagojevich threatened to appoint Senate Candidate #5 if President-elect Barack Obama refused to help get his wife on "paid corporate boards right now."

"If they feel like they can do this and not f***ing give me anything…then I'll f***ing go [Senate Candidate 5}."

The FBI says in an October 31, 2008 conversation, Blagojevich described an approach from an associate of Senate Candidate 5: "We were approached 'pay to play.' That, you know, he'd raise me 500 grand. An emissary came. Then the other guy would raise a million, if I mad him (Senate Candidate 5) a Senator."

Last Thursday, December 4, the FBI says Blagojevich "was giving Senate Candidate 5 greater consideration for the Senate seat" because he might "get some (money) up front, maybe."

Blagojevich met with Congressman Jackson Jr. Monday afternoon and said he was close to making a decision about who he would appoint.

The Governor was arrested by the FBI early the following morning in order to "stop a crime spree," according to U.S. Attorney Patrick Fitzgerald.
Jackson Jr. says he was told he's not the target of "this" investigation and would take prosecutors up on their offer to talk about what he knows "as quickly as possible" after he chats with a lawyer.
Oh my, we're really going to get a guided tour of the sewer that is politics in Chicago. More precisely, Democratic politics of the home base of the new Democratic President.
Popcorn! Get yer popcorn!
Don't forget Blago hasn't started naming names yet. I don't know about you but Governor "Pay to Play" doesn't strike me as the kind of guy ready to do lots of hard time to protect others when there's a deal to be cut (not enough hair care products in the federal pen). I'd bet Fitzma Claus is going to want something he doesn't already have on tape to make that happen.
I hope somebody is getting that damn bus warmed up, it's going to be busy.
From the one, the only Slublog...Senate Candidate #5 got his lawyer, they may meet with Fitz as early as Friday.
*I cleaned up the first sentence to make it clear the complaint says it wasn't "Senate Candidate #5" who personally made the offer to the Governor.

posted by DrewM. at
11:47 AM
|
Access Comments