« Highlights Of Today's Macy's Parade
|
Main
|
Don Surber: I Give Thanks for President George W. Bush »
November 27, 2008
On Being Thankful
If you are fortunate enough to be able to spend this day with those you love, as I am, remember those who serve us, halfway around the world, who miss the ones they care about.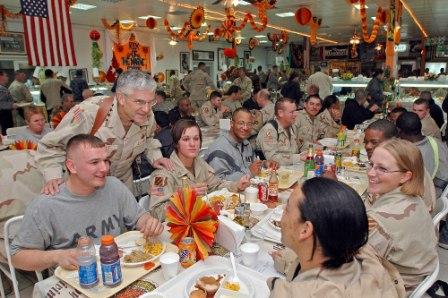 U.S. Army Gen. George W. Casey Jr., Multinational Force Iraq commander, talks with Task Force Baghdad soldiers during the evening Thanksgiving meal at the Rock of the Marne Sports Oasis Dining Facility at Forward Operating Base Prosperity, Iraq, Nov. 24, 2005. U.S. Army photo by Sgt. Andrew Miller
Now might be a good time to consider that donation to the 2008 Valour-IT Project too. DrewM reminded us today is the last day.
All the best to you and yours, morons.

posted by Dave In Texas at
06:21 PM
|
Access Comments