« Top Headline Comments 11-20-08
|
Main
|
California Supreme Court Agrees To Hear Challenge To Prop 8 »
November 20, 2008
The AP's Faux Fauxtography Outrage
The AP, which has brought us such great fauxtography scandals such as "the old lady in Beirut" and "Green Helmet Guy" has found a case of fauxtography they can get really upset about. Naturally it's because they think the "bad guy" in the story is the US military.
AP says that adjusting photos and other imagery, even for aesthetic reasons, damages the credibility of the information distributed by the military to news organisations and the public.

"For us, there's a zero-tolerance policy of adding or subtracting actual content from an image," said Santiago Lyon, AP's director of photography.

Mr Lyon said AP was developing procedures to protect against further occurrences and, once those steps were in place, it would consider lifting its ban on the use of US Department of Defense photos. He said AP was also discussing the problem with the military.

Colonel Cathy Abbott, chief of the US Army's media relations division, said the Dunwoody photo did not violate army policy that prohibited the editing of an image to misrepresent the facts or change the circumstances of an event.
So did the Army manipulate a battle image? Stage a scene to make a general look heroic and triumphant on the battlefield? Not so much. They added a flag to an image to create a headshot of the first woman to reach the rank of Four Star General.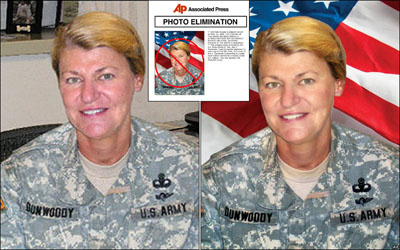 Would it have been better if the Army had just put the general in front of a flag? Sure it would have. But is this really the most egregious case of fauxtography in the world? Of course not. It's not a 'news' event, it's a freaking head shot.
Of course the AP is well known for holding double standards that benefit them and only them.
(h/t XBradTC)

posted by DrewM. at
10:58 AM
|
Access Comments