« Secret Vote: Lieberman retains Homeland security chairmanship
|
Main
|
Shock: Frum Slams Palin »
November 18, 2008
Megyn Kelly Only The Second Hottest TV Newswoman?
That's what Maxim says.
Now my affection for Ms. Kelly is well known around this parts, so you might expect that I would be outraged by this slight. You'd be wrong. Megyn has no one to blame for this but herself. If she wants to move up and claim her rightful spot atop all the other hot news women (see what I did there?) there is one simple thing she can do...WEAR THE DAMN GLASSES MORE!
Also softening the blow is fact the fact that winner, some woman named Amy Robach, is pretty cute. Of course you'd never know it from the photo Maxim used so below the fold is a better one.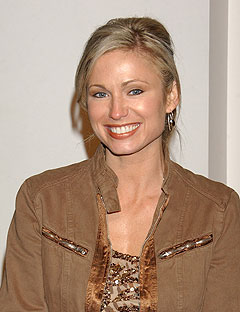 Slow news day you ask. Why yes, yes it is.
(Via TVNewser)

posted by DrewM. at
01:53 PM
|
Access Comments