« How's That Bailout Working For Ya?
|
Main
|
I Take Requests [DJ Vinnie] »
October 29, 2008
William Ayers Being, Well, William Ayers [Vinnie]
Update: Per request, this post gets the flaming douche: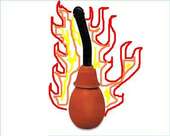 Flaming skull? No.
Regular skull? No.
Humerus? Yes.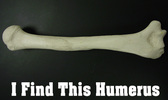 Not sure it's really newsworthy, given that Ayers is a well known unrepentant commie douchebag terrorist.
But, as is noted in the video, Ayers and [Teh Messiah Shall Not Be Named, Infidel] were working side by side when this was recorded.
So, gauge from an entertainment quality viewpoint, rather than anything relevant to the election.
Just another coil in the recoil of horror our faces will be if Obama wins.
H/T Cromagnum

posted by xgenghisx at
02:08 AM
|
Access Comments