« A Package of News Briefs and Overnight Thread (genghis)
|
Main
|
Top Headline Comments 10-10-08 »
October 10, 2008
When Obama is President: A Look Forward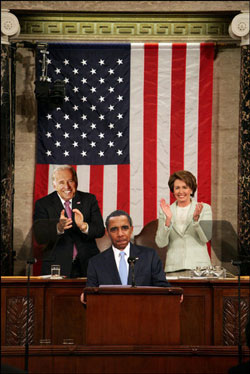 Face it...this is a distinct possibility
As the election grows closer, it's clear that Barack Obama has a very good chance of becoming our next president. Such an admission might get me accused of defeatism, but at present the trends do favor the Democrats.
This possibility and this post by lauraw got me thinking about what an Obama presidency would be like. Since Obama is such a cipher and the press has shown little inclination to examine his life or beliefs, this is a difficult exercise. Still, it's possible to guess some of what's to come based on what the blogosphere has discovered about his past.
I should preface this by saying that even though I'm a pessimist, I'm not an alarmist by nature. However, the possibility of a candidate as far-left as Obama as president, with an overwhelmingly Democrat Congress supporting him, does give me considerable pause.
One of the first things I think Obama and Congressional Democrats will do is reinstate the Fairness Doctrine. Obama's campaign has already shown an inability to take criticism without overreacting, so the opportunity to effectively silence his critics would prove irresistible. I fully expect that an Obama administration would not limit this doctrine to the public airwaves, but would likely attempt to extend it to include satellite radio and the internet. Such an effort would fail, but the attempt alone could have a chilling effect on the conservative blogs, with many deciding it's not worth the trouble and shut down. Not to mention that an Obama administration and its supporters would continue to shut down criticism by accusing even those who make good-faith criticisms of being racists.
At least two Supreme Court justices would step down during the first term of an Obama administration - Ruth Bader Ginsberg and John Paul Stevens. They would be replaced by younger judges with similar judicial philosophies, ensuring a liberal voice on the court for decades to come. It's possible that one of the 'swing votes' could retire or pass away, and Obama could give the court an activist majority. If that were to happen, I would fully expect the court to revisit cases such as DC v. Heller.
Congress, with the urging and support of the administration, would spend time 'investigating' the 'crimes' of the Bush administration and the Republicans in Congress. These hearings would have little purpose other than to tarnish the Republican party and avoid a repeat of the 1994 elections.
Two major changes to the Constitution will be 'considered.' One would be a repeal of the 22nd amendment to the Constitution. Lest you think that overly paranoid, consider that Congress attempted to pass legislation with that goal three years ago. Any proposal would likely include a provision to allow President Obama to seek a third term, and the arguments in its favor would be based in the noblest rhetoric - specifically, that a lame-duck president does not have an effective set of checks and balances.
The second Constitutional change discussed would be the abolishing of the Electoral College. The left simply hates the fact that rural voters have the ability to temper the overwhelming Democrat vote in urban areas of the country, and that the so-called 'flyover' states have considerable power in national elections. Abolishing the Electoral College would give predominantly liberal urban areas overwhelming power to choose future presidents.
Economically, taxes would be raised and government spending would increase. Unions would grow stronger and free trade would be viewed with suspicion. Such policies would ensure a repeat of the greatest economic crisis of the 20th century.
These are just guesses at what's possible during an Obama administration. What an actual President Obama would do could be better or worse than what I've written here. Still, I'm not encouraged by the fact that Obama seems to have political instincts that run contrary to mainstream American values. Obama answers criticism by threatening legal action. He has his own television channel and is far too comfortable with the cult of personality that has been created around him. And as an employee and financial supporter of the hopelessly corrupt ACORN, Obama may have unwittingly abetted voter fraud. As president, he could by omission or commission strengthen that organization, making truly fair elections harder to achieve.
I hope I'm wrong, and that a President Obama would resist the temptation to embrace radicalism. However, nothing in Obama's past suggests such an ability. What we've seen of Obama suggests that in office, he would be a man who doesn't just want to lead the country. He wants to reshape it.
Update - Yes, the bit about the 22nd amendment is the most alarmist part of the post and I thought hard before including it. Rep. Steny Hoyer has submitted a bill to abolish it every Congressional term. Do I think it's likely to happen? No. Do I think Congressional Democrats and Obama would support such a measure? In their heart of hearts, absolutely.
What disturbs me about Obama is that his self-regard seems such that he would willingly go along with such a proposal were it offered. Obama's ego is strong enough that despite his lack of record or accomplishments, I honestly think he sees himself as not just good for the country, but necessary. He's got a bad case of FDR-itis.
But no, I don't see any possibility of Obama declaring himself president for life. He's deluded, but not stupid.
I do think they're going after the Electoral College like Rosie O'Donnell attacking a bucket of chicken wings, though and a bill to abolish it could easily pass a Democrat-dominated House.

posted by Slublog at
08:47 AM
|
Access Comments