« Madonna Rips Into Palin
|
Main
|
SwiftBombing: Man Whose Family Was Bombed By Weathermen Joins Team McCain »
October 08, 2008
Big: Scrubbed Web Pages Resurface Naming Obama As Member of Expressly-Leftist "New Party"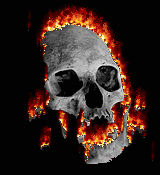 >
We spent a month on Palin's nonexistent membership in the AIP.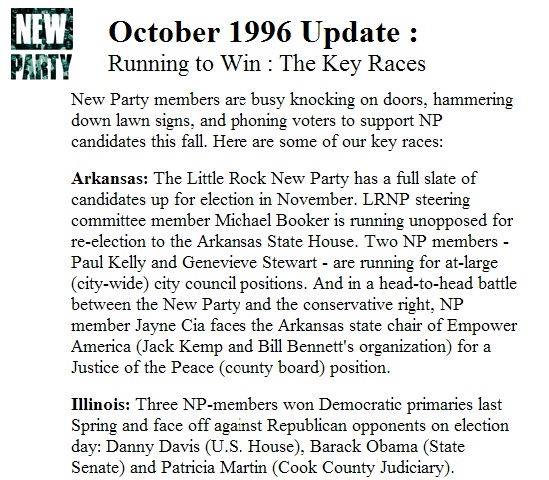 Anyone think the MSM will follow-up here?
The New Party was a radical left organization, established in 1992, to amalgamate far left groups and push the United States into socialism by forcing the Democratic Party to the left. It was an attempt to regroup the forces on the left in a new strategy to take power, burrowing from within. The party only lasted until 1998, when its strategy of "fusion" failed to withstand a Supreme Court ruling, but after, but the membership, including Barack Obama, continued to move the Democrats leftward with spectacular success.
More at Nice Deb. Actually not much more, but instead a nice tiny-bites digest.

First Link: Since this guy did the detective work, maybe check him first.
Look, there has long been speculation that this asshole didn't meet Ayers in Chicago, but rather at Columbia, where both were when Obama was there. The suspicion is that Ayers is hardly "just a guy from a neighborhood," but rather a mentor who shaped his career -- including getting him a job as a community activist.
Does this prove that? Not yet. We'll see.
Bleg: Can someone -- multiple people, really -- start backing up the archive.org pages Politically Drunk found, before they are disappeared?
No Quarter Has More; Pardon the lack of hat tip, I'm just scrambling to get this up.
No Quarter has more. A reader calls it "pretty well sourced."
It's Old? Human Events had this in June.
So what? It's new to me, and new to most of the public. Plus I think the documents are new.