« Fey, Palin Nearly Guaranteed to Meet on SNL
|
Main
|
Brown Person Films Himself Making Terrifying Threats »
October 09, 2008
Child Stalker Andrew Sullivan's New and Improved Cruising Page
Plus: Take the Andrew Sullivan Challenge
Bumped. I dig this piece. Note the Andrew Sullivan Challenge.
Light content warning. It's been cleaned up, humorously, but it's still a bit edgy.
That's from Notropis.

If You Haven't Been Reading Andrew Sullivan... you're probably a bit mystified as to why I jumped ugly tonight.
Read this guy's piece. And he's a lefty fan of Sullivan's. Skip down his undue praise for Sullivan (quick -- can anyone recall a single article Sullivan's ever written?) and his idiotic conclusion and just read Sullivan's Child Stalking of Bristol Palin.
He just never lets up. Even after his bosses at The Atlantic told him to stop -- and he had himself a hissyfit and went on a one day strike -- he keeps finding fresh pretexts to hint and insinuate at what he has been forbidden to directly state.
Today, he used Governor Palin's statement that she polls the family on decisions about running for office for yet another unhinged bout of "asking questions" in a post sarcastically titled, I think, "The Girls' Choice."
I don't know what point he was trying to make. I'm not sure he knows what point he was trying to make. Besides the fact that his brain is degenerating either due to AIDS medicine or steroids, he's also operating under the stricture that he cannot quite come out and say Bristol Palin is Trig Palin's mother anymore, and he therefore writes in a frankly baffling manner as he both attempts to insinuate and disguise his insinuations simultaneously. His writing is, then, even more insensible than usual.
For me, though, it was the last straw among many last straws. Even when threatened with termination, he cannot stop savaging the Palin family. He cannot stop himself from hinting that Bristol Palin is Trig's mother. He. Cannot. Stop.
Because he is a lunatic.
He really believes this, incidentally. I know this for a fact. Even today, he believes this. Even today, now that recent pictures show us what Bristol Palin looks like pregnant -- and of course we have not seen her in such a "delicate condition" previously -- he still believes it. Like a lunatic, he makes this point in in his correspondence: BUT IS IT HER BABY?!!
It's not just partisan hatred -- though surely it is borne of partisan hatred. But the fact is he is simply losing his cognitive functions. His once splendidly mediocre mind is degenerating day by day. His writing skills, which once placed him easily in the top sixty or seventy percent of his field, enough to land him a high-prestige job as a, ahem, blogger, may now be compared unfavorably to the senseless racist rantings of Ron Paul's old newsletters (which, incidentally, he defended as an understandable and excusable excess). His middling power of insight, which has allowed him to achieve what few other writers can boast of -- to have spent twenty years writing prolifically without leaving a single memorable column or original thought or even a quotable sentence behind -- are diminishing by the hour.
(And before you say I am uncharitable, I challenge you all again: Name me a single column of Sullivan's you remember. A singe turn of phrase. A single aphorism. A singe compelling idea that stuck with you. Can you? I don't believe you can. I don't believe anyone can. Many of you will say "But he used to be a good writer." Oh? Well, then -- it shouldn't be difficult to remember a fine phrase or piercing thought that stuck with you. That stayed with you. That you can recall at all. I'm waiting.... All I can remember, personally, is that he quoted unhinged rants from the left wing and gave them "funny" award titles. Not exactly an innovation, and hardly the sort of legacy a great writer leaves behind. Can you remember more than that? His reputation, such as it is, was not built upon elegance of phrase or clarity of thought but upon his relentless self-promotion of himself as an identity-politics oddity -- Gay Catholic Tory -- and his shrill emotionalism and cheap resort to ad hominem tarted up with SAT vocabulary-builders.)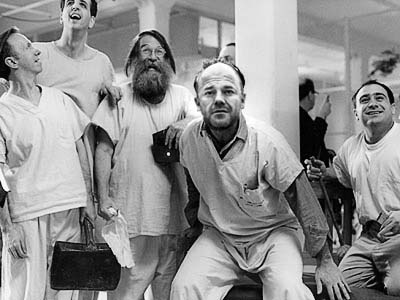 He really believes that Bristol Palin is Trig's mother. Because he is, quite literally, demented. And he's not allowed to come right out and say that, so his already-erratic moods swing e'er more wildly due the frustration that only he can see what is in front of all our noses, but the big meanies at gay gossip site and antisemitic conspiracy newsletter The Atlantic won't let the truth come out. The truth-- that BRISTOL IS TRIG'S MOTHER!!1!!
And so he's tweaking. He's gaslighting himself. He only had a shaky hold on psychological stability to begin with, and now that's all but gone.
I suppose his unfamiliarity with the basics of female sexuality may contribute to his confusions. But dude -- Google it. A girl cannot become pregnant with one child even as she's about to deliver another. He has accused the Palins of many crimes, but I fear that his all-consuming urge to prove Bristol Palin is, in fact, a tribble will prove as quixotic as it is insane.
He is a bloody, twisted trainwreck of a human being, always a nasty bastard and now a truly vile nasty bastard since his his decaying brain-functions have shorn him of any inhibition, judgment, or basic human decency. And gay gossip site and antisemitic conspiracy newsletter The Atlantic is doing him no favors by allowing him to so publicly descend into gibbering madness.
What you are reading at gay gossip site and antisemitic conspiracy newsletter The Atlantic is the diary of a madman.
And, as compelling as such ravings may be, I for one will be happy when the book is finally shut.
The Sullivan Challenge: I'll repeat it. Name me a single insight, column, or phrasing of Sullivan's you remember.
A great writer leaves behind great writings, right? I mean, they don't leave behind, say, derby-winning bass or blue-ribbon pumpkins, right?
So if Sullivan was "once a great writer," why is the evidence of this purported fineness so difficult to assemble? Why is the evidence for anything beyond mere competency so elusive?
And why is it that this "once great writer" has fallen ever further down the career ladder? Why has he not been propelled to a loftier perch by the incisiveness and elegance of his previous body of work? A man with one decent novel to his credit can live out his days as a well-paid, mildly respected college professor; why is it Sullivan himself cannot so coast on reputation?
Why, in fact, does he now have precisely the same job I do -- that of a mildly prominent partisan political blogger?
Perhaps he's so enraged at Sarah Palin for achieving in thirty minutes what he's failed at for twenty years: Producing a memorable quotation.
I Mean... A memorable quotation, apart from "I take loads."
Although I must admit that has a certain elan to it.
P-shop credit: Slublog.
PS: Sullivan claims the bosses have not forbidden him to write on any topic.
He's lying.
He can prove he's telling the truth, and prove me a liar, by printing what I contend he is no longer permitted to write: That Bristol Palin is Trig's mother.
I know he still believes this. I've seen the emails.
So if you're telling the truth, Sullivan, why don't you write on your blog what you're eager to say in emails?
According to This Site... Sullivan has precisely three noteworthy quotes.
The Dixiecrats meet again in New York. Now they're called Republicans.
Ba-zing. Didn't Oscar Wilde say something similar?
The most successful marriages, gay or straight, even if they begin in romantic love, often become friendships. It's the ones that become the friendships that last.
Now that's insight. Romantic love fades and is replaced by friendship and attachment.
He's like the retarded Dr. Phi.
And this:
The dirty little secret of journalism is that it really isn't a profession, it's a craft. All you need is a telephone and a conscience and you're all set.
Well, he's got the telephone. Halfway there now!
Thanks to Bumerstickerist.
Here are some of my favorite Sullivan quotes.
Here's another good one. In which he muses that the entire Iraq War was in fact just concocted to get Instapundit distracted and thus delay the coming of gay marriage.
But in my darker moments, I wonder whether the war wasn't a cover to persuade good, open-minded folk like Glenn [Reynolds] to enable the theocratic impulses of the Republican base. Of course, Glenn can wait and see. Gay couples who have had basic rights taken away from them since November, might feel more aggrieved.
Great writer, huh? Perceptive thinker, eh?
Sullivan is first and foremost a conspiracy theorist because he is a narcissist. To him, the entire world consists of two great Illuminati tribes: Those who are trying to give Andrew what he wants, and those who are trying to keep Andrew from having what he wants.
Sometimes they even start major wars to distract bloggers and ruin Andrew's wedding day.
That's what They do.
All of us, in our own way, either propel or retard the Great Cosmic Wheels which turn about Axis Andrew.

posted by Ace at
01:56 PM
|
Access Comments