« Top Headline Comments 09-16-08
|
Main
|
Why Obama's Health Plan is a Disaster and Why His Flacks Need to Get Better Material »
September 16, 2008
McCain Has People to Handle the Email Stuff
Meanwhile, at McCain Headquarters.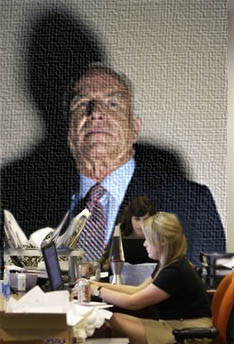 Not a photoshop. But if it were a photoshop, Slublog might have done it.
Look. I'm a Conservative. And I'm a Christian. Heck, I make $140,000 a year, give or take a little. But I have to tell you, I'm concerned about these mean looking tapestries in the McCain HQ. I don't think Barack Obama would do this sort of thing, and it makes me wonder if I shouldn't reconsider my positions on this election.

posted by Dave In Texas at
11:26 AM
|
Access Comments