« Denver Defeats San Diego By Going for 2-Point Conversion with :24 on the Clock
Plus General Footbal Thread I Guess; Pitt Vs. Cleveland
|
Main
|
Pelosi, Reid Ready to Give it Up Like Three-Tooth Whores on Drilling »
September 14, 2008
MSNBC Runs Sarah Palin Documentary During "Cult Killer" Slot
Obviously MSNBC, which runs little but serial-killer crapumentaries on weekends, decided to change up its programming due to Palinmania.
But if Jon Stewart can snicker when FoxNews' chyrons accidentally identify, say, Mark Foley as a Democrat (something other news networks due on occasion, too, and of course the media never mentions party affiliation at all when a Dem's been caught dirty), then we can snicker at this.
I'll do my Jon Stewart impression here. Cute look on. Now I say in a booming voice, "But how would 'fair and balanced' MSNBC cover this insurgent candidate?"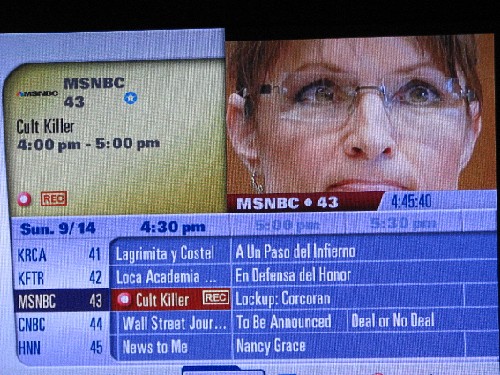 Now I put on my exaggerated "deep in thought"/"serious anchor" look. "Cult killer?" I say with an arched eyebrow. The audience pretends to find me funny.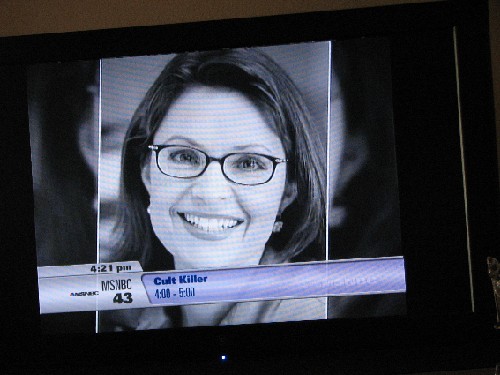 Now I put on my "Surprised Dumb Guy" look. "Zoinks! Someone's working overtime at MSNBC!" The audience forces a chuckle. Look how cute my incessant mugging is.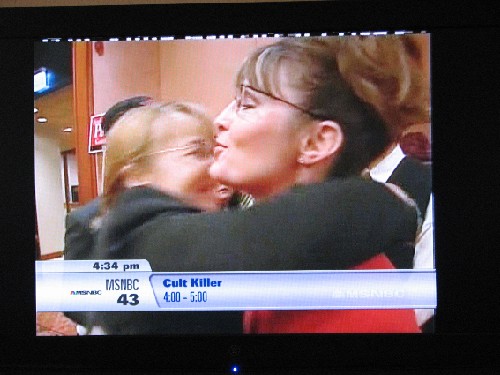 Now I wrap up. "Well played, MSNBC!" The audience roars for reasons that even they can't quite explain.
And now I do that thing where I pretend I'm so amused by this that I myself cannot help but laugh, and I try to stifle my high-pitched giggles in my hand as I turn away from the audience. Look at me, I'm on the verge of pretend-tears from pretend-laughing at my pretend-wit.
Okay, "Cutesy Face" back on, segueing right into "Faux Serious Face" as I introduce the next story.
Thanks to Tom.
Actually... Kat-Missouri says this is quite accurate.
Sarah Palin is a cult killer.

True, she killed the Cult of Obama. Dead. As a doornail. Tied it up like a moose kill, threw it over the hood of her snow machine, took it home and cooked it up for supper for her four cannibalistic kids and Mr. Barracuda.
I'm assuming Kat's mention of "four children" is deliberate irony.
Since This Post Just got Instalanched... Might as well direct attention to this funny p-shop.
By the way, I've cleaned that poster up to look better. My first attempt at it was a bit garish.

posted by Ace at
08:05 PM
|
Access Comments