« To Our British Brothers and Sisters: The Hammer Has Fallen
|
Main
|
Top Headline Comments 09-11-08 »
September 11, 2008
Finally: Boy George's Neo-Disco Tribute to Barack Obama
I just got emailed this under the subject line, "So, so gay. Transcendentally gay. Manifestly gay. The gay made flesh."
The email was from IndianFromTheVillagePeople@yahoo.com. So, like, he'd know.
Hmmm... the track has a curious credit:
Produced by Karl "K-Money" Rove.
That's strange. I didn't know he'd produced anything since T'Pau's Heart & Soul. I guess some opportunities pretty much force you out of retirement.

From Harry's Place, with a lot of funny comments.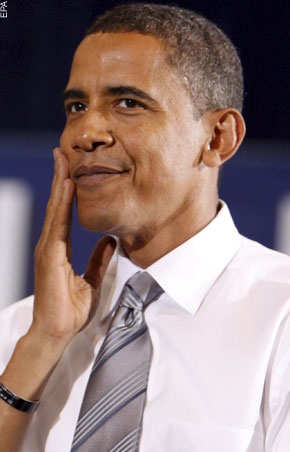 "Dude... So. Not. Helping."
Best. Election. Ever.
Provenance Questioned? Well, here's Boy George performing it live. Either that's Boy George or Elvis Costello's obese older sister.
Though I did find an "official video," which I substituted for the original, which seemed to be someone's edit of it. I couldn't really tell them apart.
Here's this song mixed with video with Boy George's previously stupidest "political" song, The War Song, also known as, and here I shit you not, La Cancione De Gurre. Because a French subtitle makes a chorus of "War, war is stupid, and people are stupid, and love means nothing in some warzone" really seem kinda smart.

posted by Ace at
02:52 AM
|
Access Comments