ę Ron Paul to endorse Cynthia McKinney and other cranks
|
Main
|
State Department Fills Iraq Slots Without Draft Or Drama Ľ
September 10, 2008
Thomas Friedman: Obama Needs to Get on Fire
Echoing Olbermann's complaint to Obama (why aren't you angrier?), he wants to know who "slipped that Valium into Barack Obama's coffee"?
Somebody needs to tell Obama that if he wants the chance to calmly answer the phone at 3 a.m. in the White House, he is going to need to start slamming down some phones at 3 p.m. along the campaign trail. I like much of what he has to say, especially about energy, but I donít think people are feeling it in their guts, and I am a big believer that voters donít listen through their ears. They listen through their stomachs.
Friedman makes the same mistake that has everyone else on the left scratching their heads trying to figure out what happened to the Obama campaign. He thinks (or just claims) Obama's somehow lost his energy, he's not connecting with people like he used to. He pines for the "memorable lines or uplifting visions", then in the same paragraph wants Obama to get specific about real problems, like Fannie Mae, energy and health care.
Trust me Thomas, you don't really want that.
Obama isn't going to tell you what he's going to do, he never has, because he either a) knows most voters will reject it, or (more likely) b) he has no damn idea how to fix it. An energy plan that categorically dismisses increasing the supply of it shows just how unserious he is about the problem.
Obama hasn't connected at a "gut level", he's preached "hopeychange" without explaining what it is, because it's nothing, it's "NOTBUSH". Lofty rhetoric about how things are all screwed up and we're going to "change things" starts thin and gets thinner by the day. He's like a consultant, not a leader.

Q. How does a consultant make love?
A. He sits on the edge of the bed and tells you how fucking awesome it's gonna be.
His problem (one of many) isn't that he's not on fire. There's nothing behind the smoke, and now that the smoke has cleared it's apparent to everyone watching.
And frankly Thomas, when he gets pissed off (and he does), he sticks his foot in his mouth. I don't really think you want him to get mad (well, you do, you just don't want to watch the results). He's pissed now and reacting like a child, crying about how "they're swift-boating me" with that lipstick/pig thing".
It's weak tea buddy. When a guy says "I'm not gonna get bullied around" you can bet your lunch money he's already lost his.
They really don't know what to do, but they're trying Tom.
Here's a timely, and awesomely awesome new Obama campaign logo from S. Weasel. She told me I could steal it, so obviously she's unclear on the whole "theft" concept, but the girl's got game: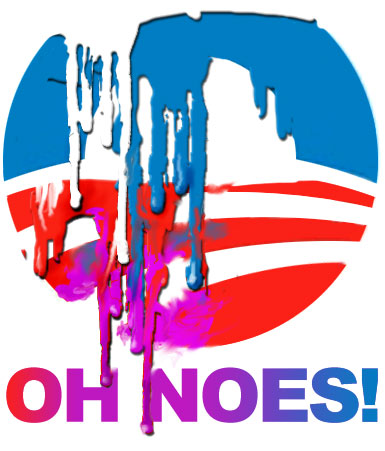 Obama
Biden
Someone Left the Cake Out in the Rain
Update: I had most of this below the fold cause it's a little long, but that doesn't do justice to Stoaty's logo. Honestly, I could have just written "BLAH-DEY, BLAH BLAPPITY BLAH Friedman Obama love". The logo is the shit man.

posted by Dave In Texas at
02:20 PM
|
Access Comments