« Obama on Palin: "You Can "Put Lipstick on a Pig... It's Still a Pig"
Obama Introducer: "Jesus was a communtiy organizer"
Pig in a Poke: Video Added
|
Main
|
NYT EXCLUSIVE! Turns Out Maybe You Can Defeat Terrorists By Fighting Them »
September 09, 2008
Exclusive: "Sarah Palin" Doll is Actually the Same Doll Seen in the Infamous "Grandma's Boy" Sequence
Cryptozionist Stealth Messaging?
This is disrespectful, I know. Why am I posting it? Because it's funny, it's a strange intersection of frequent AoS topics, it's true and it's an exclusive.
'
This doll? Sold as a "Sarah Palin Action Figure"?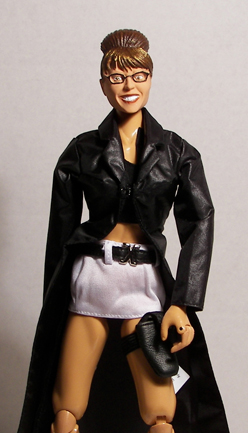 ...is the same doll, same model, by the same company, with only its head swapped out, as seen in this clip of Grandma's Boy. Confirmed the actor/writer/producer in the scene (Allen Covert, who reports (really, he says this) that seeing that doll's body again gives him a "thrill up the leg") and by the prop-man on the picture, who confirms this is the same company he got the doll from.
Here is the clip. I have to tell you, I have to slap on the Highest Possible Content Warning on this. But it is hilarious.
If you don't want to watch, I'll just give you the story: A clip I've run on the site before about a guy living the Ace of Spades Lifestyle finds himself, um, very attracted to the doll. That's all you have to know.
Once Again: Hard-R Content warning.
Thanks to Cuffy Meigs for first pointing this resemblance out. I passed on mentioning this when Cuffy first tipped me about how similar they looked, thinking it was too disrespectful to post.
But now that I know it's actually the same doll, what can I do?
My hand is forced. Ahem. It's not a cute similarity anymore; it's a confirmed, weird fact. I'm "in the media." Ahem. I have to report the tough stories, no matter how ugly.
And hey, it's just a doll. And Covert didn't really spank it in that clip. (AFAIK.)

Question: How did "They" know Sarah Palin would be running in 2008, three or four years ago?
And by "They," I mean "Those People."
You know the ones. Them. The ones whose "religion" prevents them, by some lucky coincidence, from coming into work on any weekend day, even during an emergency, right about the same time football seasons starts.
High Holy Days, huh? That's funny, they're my High Holy Days too, but no one lets me leave at 4:30 on Friday.

See The Atlantic for further details.