« Brutal Assessment of Barack Obama's Tenure as Campaign Executive
|
Main
|
Top Headline Comments 09-09-08 »
September 09, 2008
NFL Picks - Week 1
1 Maybe Next Year 13
1 Phat 13
1 Newman 13
4 notropis04 12
4 DaveSObscenelyNamedPicks 12
4 Murph 12
and a bunch of morons lumped together tied for 7th with 11 pts: Torque_820, D-Cup, Lewis, DoucheNozzles, Elevensfolly, AliceH, chinpoko-mon, Bmeuppls, Don Carne, mesablue, DrZin, buzzion, Azresident, Dave in Texas, Nodakdrunkhobos, Helmet picks, Hazy Dave, CAD Daddy
Q: WHY am I in 4th place and not second?
A: Shut up, that's why.
That's how Yahoo does it. Assume we're locked in a riveting 25 foot sprint, and 3 of you cross the finish hobo in front of me, all tied. I ain't second, I'm 4th. Because I see three assholes in front of me (does that make you uncomfortable? Would it help if I said I have a knife?).
Incidentally that's just AoSHQI and II; Stashiu 3 did a 3rd group. When he emails me the results I'll post them if I don't get kicked out of eleventy-seventh place.
YOU Know what sucks more than having to leave home for a week because of a hurricane?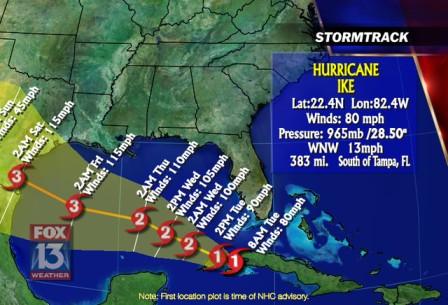 Having to do it again a week later*.
More hurricane tracking stuff here with extra graphics and stuff.

*I don't mean me, I was commiserating with everyone else who is affected again.

posted by Dave In Texas at
09:18 AM
|
Access Comments