« RNC Anarchy Organized by U of M Employees?
|
Main
|
Top Headline Comments 09-08-08 »
September 08, 2008
So, What is it Obama Did, Exactly?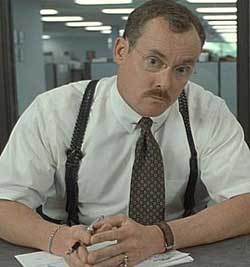 So...walk me through a typical day, okay?
Barack Obama has made his experience as a community organizer part of his presidential campaign. During the Democrat convention, speakers heaped praise upon his decision to do job, saying it displayed his compassion and concern for the common man. Earlier this summer, Byron York looked at Obama's record to see what he had accomplished in that position.
Short answer: not all that much:
The long-term goal was to retrain workers in order to restore manufacturing jobs in the area; Kellman took Obama by the rusted-out, closed-down Wisconsin Steel plant for a firsthand look. But the whole thing was a bit of a pipe dream, as the leaders soon discovered. "The idea was to interview these people and look at education, transferable skills, so that we could refer them to other industries," Loretta Augustine-Herron told me as we drove by the site of the old factory, now completely torn down. "Well, they had no transferable skills. I remember interviewing one man who ran a steel-straightening machine. It straightened steel bars or something. I said, well, what did you do? And he told me he pushed a button, and the rods came in, and he pushed a button and it straightened them, and he pushed a button and it sent them somewhere else. That's all he did. And he made big bucks doing it."

That, of course, was one of the reasons the steel mill closed. And it became clear that neither Obama nor Kellman nor anyone else was going to change the direction of the steel industry and its unions in the United States. Somewhere along the line, everyone realized that those jobs wouldn't be coming back.

So Obama looked for new opportunities...
In other words, the complexities of this situation would require more than simply getting people agitated enough to demand that someone toss them a few bucks in the name of economic development. Solving this problem would require an understanding of the economic realities of the steel industry, working with the unions to develop effective retraining programs for the workers and being an advocate for this community to the city government. What these people needed was someone who was willing to take the time to understand their situation and look for long-term solutions to deal with the changing economy. They needed someone who could work with government to ensure they had the training and skills that would attract employers to the area so they weren't so dependent upon one industry.
Obviously, that person was not Barack Obama. Guess he felt actually rolling up his sleeves and working was below his pay grade.

posted by Slublog at
10:36 AM
|
Access Comments