« Quote of the Week
|
Main
|
UN: give up meat to stop global warming »
September 07, 2008
Anatomy of a Smear
Correction: Contrary to the assertion made below, Andrew Sullivan was not the first to report the motion to seal divorce records -- at least one obscure blog beat him to it by a day.
Still, I'd like to know how it is that Kos and Sullivan are coming across their smears. How did Sullivan come across this? Just stumbled across it? Tipped? If tipped-- who tipped him?
....
Weekly Standard Dean Barnett asking a very important question.
One that needs to be answered: Now.
Yesterday on a blog hosted by the prestigious magazine the Atlantic, a post popped up at 11:49 a.m. with the breathless title, "Here We Go." The post read in its entirety, "Todd Palin's former business partner files an emergency motion to have his divorce papers sealed. Oh God." The post linked to the Alaskan court system where you could see the motion if you cared to click through.
"The author" here is, yes, RAWMUSLGLUTES himself. WS isn't saying so because they're so repulsed by this vile thing they avoid even naming him anymore.
Although the author didn't care to make his innuendo explicit, the insinuation was clear – the National Enquirer had previously reported on what it called "a rumor" that the former business partner in question had had an affair with Sarah Palin. The breathless title and the brevity of the post implied that the smoking gun for the affair laid in the court filings that the former business partner wished to conceal. Naturally, because the purported scoop had the imprimatur of the prestigious Atlantic, many other news sources picked it up in rapid order.

Quicker than you can say "conspiracy theory lunatic," this particular lunatic theory jumped off the tracks. The Court denied the motion to conceal the papers, allowing the curious to sniff through them. Shock of shocks, Sarah Palin's name wasn't even mentioned in the filings. Nor was there anything regarding an affair with her. In this particular wild goose chase, the goose flew free.
See Hot Air. The guy didn't ask to have his records seal to protect Sarah Palin, but himself -- he didn't want legions of media creeps and confirmed jock sniffers like Andrew Sullivan pouring through the broken pieces of a failed marriage.
Anyway, back to Dean:
Thus, the method of the smear mechanism reveals itself – print a lot of speculative crap, all while maintaining a malign indifference as to whether or not you can prove said speculative crap. Actually nailing down a story before running it? That's so 20th century, at least in the virtual pages of the Atlantic. Doing actual reporting to confirm life-damaging rumors before circulating them? Such quotidian tasks are obviously beneath an Atlantic blogger's pay grade.

One more thing of journalistic interest occurs: The "news" about the motion to seal the divorce papers appeared in the virtual pages of the Atlantic first, not the National Enquirer or the Daily Kos as one might expect. Obviously, Atlantic field reporters haven't trekked up to Alaska to monitor every random court filing. Therefore, someone had to tip off the Atlantic's chief rumor spreader about the motion to seal the divorce papers. It would be interesting to know at whose bidding the Atlantic staffer in question is spreading unfounded smears.


I'm sure in the interests of full disclosure, the magazine and its chief rumor spreader will rush this information to the public. Right after they apologize for yesterday's smear du jour turning up empty.
Andrew Sullivan is known for many things -- general histrionics, "excitability," intellectual shallowness that requires him to blog about the only things he's marginally capable of discussing (emotion and scandal), unquenchable vanity, a guileless passion for conspiracy theories of all sort, "gobsmacking" outbursts of hypocrisy and inconsistency so laughable he's chiefly read for his inadvertent entertainment, casual antisemtism that was all the rage at British boarding schools but doesn't play as well in America, power glutes, seeking anonymous three-way sex, and an endless stream of insults that sound vaguely "smart" but are really just variations of "fascist" and "hater" tarted-up with a thesaurus and some memories of introductory-level college classes. (For example, we're all "foaming at the mouth Caesarists," which is cute, but it's really just saying "crazy fascist." Oooh, burn.)
I could go on and on. Oh, look there, I did.
But one thing is decidedly not known for is reportage, nor, in fact, for moving his fat ass much further than the local Starbucks.
So how did Sullivan land this scoop?
The most likely answer is that he was fed it by the Obama campaign, the same Obama campaign whose strutting Narcissus of a candidate (see, Andrew, I took Introduction to the Classical World too) piously calls for a ban of all personal attacks on his opponents' family while smugging political pornography to disgracefully amoral partisans who then inject it into the mainstream, like the hydra-poisoned arrow of Heracles. (See, Andrew -- got that one from high school. Not really that fucking impressive.)
There are other possibilities, including fellow Messiah cultists in the media whose ethics would prevent them from publishing such trash without first actually looking at the documents; if that's the case, it reflects rather badly on The Atlantic that they've become the Too Hot for TV to the media's Jerry Springer Show.
But the most likely candidate seems either Obama's camp or the DNC, which are functionally unite at this point. Certainly it fits with Obama's behavior:
Obama has claimed that he would not tolerate such attacks being made by any of his staff. And yet we have his National Finance Chair smearing Sarah Palin as a selfish, unfit mother on national radio without reprimand.
And bloggers we know as a fact are in communication with the Obama campaign -- Sullivan, Kos -- are pushing the positively insane and cruel "Trig is really Bristol's baby" claim into the national media.
Obama's campaign remains in close communication with these defamers. It seems he "tolerates" a lot more of this than he claims publicly, no?
And now we have Andrew Sullivan, who hasn't actually reported a goddamn thing in his whole life except his HIV status, suddenly in possession of a scoop (which went nowhere, but a scoop nevertheless) which he quite suspiciously does not even call a scoop.
Forgive me for generalizing, but Andrew Sullivan hasn't missed an opportunity for shameless self-promotion once in his entire grubby, starfucking life.
Why the sudden onset of modesty? Why not proclaim his scoop for what it was?
Because he didn't want to draw attention to the question of how he'd come to have the information, of course. Call it libel laundering -- disguising the source of a smear.
As a little button to this story. It's not much, but it does demonstrate how relentlessly nasty this parasite is, and how far The Atlantic has fallen since it hired this hysterical homofascist. (Makin' up new words is easy, too, Andrew.)
After pushing this latest smear, after so many others, into the national media, Sullivan not only took his sweet old time noting his nasty insinuation had proved false (Hot Air had it 8:59 AM today; despite being awake and blogging before nine, Sullivan waited until 12:03 to link the Smoking Gun's debunking), but note the petty and grudging manner in which he "retracts" the story, as if he's angry at Sarah Palin for not having obliged him with infidelity: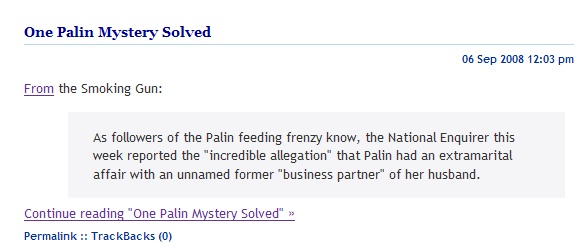 That's right -- after all the breathless, eye-catching insinuating that the divorce records would prove an affair -- a post, incidentally, that soon caused the Alaska court system to which he had linked to become inaccessible due to traffic overload -- Sullivan not only fails to note the retraction in the headline (which is par for the course for him) but actually keeps his main page entirely pristine of any retraction at all.
In fact, as you can see, on the main page, not only does he not clearly retract the story, but the only information posted there is actually just a reassertion of the original smear.
His "retraction" -- at least on the main page -- simply defames Sarah Palin anew.
If you click "read more" you'll see a quote from TSG indicating the sad news that St. Andrew was wrong, but of course he ads no comment of his own to the post, no apology, not even a regret for misleading his readers.
What the hell, man? I offer far more generous corrections than that, especially when I've really wronged someone. And I'm not a representative of a (once) respectable magazine.
Is that the manner by which The Atlantic magazine suggests making corrections/retractions ? Particularly for such scandalous personal innuendos that even the National Enquirer is more circumspect about?
Is it The Atlantic's policy that one of its salaried writers, and surely the one who appears the most frequently on television (starfucker he), can smear someone with an unsourced innuendo of such a personal sort and then, when evidence is presented that that smear was entirely unfounded, "retract" in such a grudging and stealthy fashion?
Is that what the Atlantic is now? Andrew's personal little hate-site and slam-diary by which to peddle gay rumors, conspiracy theories, smears against 17 year old girls (and 1 year old boys, for that matter) along with the occasional spice of Jew-baiting?
Well, congratulations, Atlantic. You are, without doubt, now the toniest gay gossip site and antisemitic conspiracy newsletter available in America. And, at 151 years, surely the most historied.
I'm sure you have a colorful and wide-ranging future ahead of you as a Bircheresque successor to Us Weekly, as I'm sure we'll all find out.

Bleg: Any PUMAs or other politicos out there who know the personal emails or phone numbers for high-ranking Obama staff, please send them my way. I want to get these bastards on the record as to the extent of their contacts and coordination with Kos and Sullivan. On the off chance they're willing to admit any connection with such creatures, I want to know why it is that obama's supposed ban on these personal attacks is suspended with regard to them.

How Does Sullivan Keep Getting Work?: The Other McCain suggests that Sullivan, despite having little by way of restraint, judgment, talent, or psychological stability, does have one thing no other blogger has (to my knowledge): A permanent link from the Drudge Report in its news links.
Therefore he has the equivalent of ten Instalanches a day -- even without writing a blessed thing; even random clicks off Drudge are worth 50 thousand hits per day -- and any media outfit looking to establish an online presence will want that Sullivan Drudge link feeding the site traffic.
They might not want Sullivan, per se, but they want that Drudge link. Alas, it's a package deal.

posted by Ace at
02:27 AM
|
Access Comments