« Cuffy's On Fi-yah
|
Main
|
Legacy Media Underreports Crowds at McCain/Palin Appearances »
September 06, 2008
Democrats Toss Thousands Of American Flags In The Trash UPDATE: Dems Say Flags Were "Wrongly Taken"
For Democrats the flag seems to be just another disposable prop.
Don't worry, this won't be one of those things only rightwing nut jobs know about. Drudge has it and has crashed the Denver Post site. And oh yeah. McCain/Palin are in Colorado today.
Before McCain speaks today, veterans will haul these garbage bags filled with flags out onto the stage — with dramatic effect, no doubt — and tell the story.
The Democrats spent a lot of time worrying about how environmentally friendly and healthy their convention would be but I guess that only goes so far. Now they'll whine about how it wasn't their fault and it's not like Obama was personally tossing flags in the trash and in some sense that's true. But appearances matter and this just feeds into the perception that patriotism as most Americans understand it (something other than endless criticism of the country) is simply a card Democrats play at election time.
I wonder why anyone would get that idea?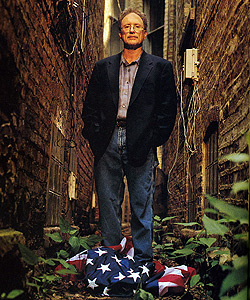 Bill "Friend of Barack" Ayers
UPDATE: The convention committee more or less says the flags were taken before they could be dealt with.
Damon Jones, spokesman for the Democratic National Convention Committee, released a statement saying McCain should applaud the fact that thousands of American flags were "proudly waved" at their convention.

"But instead his supporters wrongfully took leftover bundles of our flags from the stadium to play out a cheap political stunt calling into question our patriotism," he said.
Update (2:35 eastern): Palin is on FOX now giving her stump speech. McCain is up next and may talk about the flags.
The Obama campaign has responded to the controversy by asking, "How does this help find out who Trig Palin's mother is"
(I may have made that up.)

posted by DrewM. at
12:39 PM
|
Access Comments