« Undeniable Proof of Bigfoot's Existence
|
Main
|
Ernest Borgnine Reveals the Secret of His Longevity »
August 14, 2008
Great Moments in College Debate
As Fark says: You're doing it wrong.
This is very real. The decrepit old Sasquatch-lookin' hippie who jumps in is a professor and debate coach at Fort Hays State University. The black woman is the Pittsburgh coach.
The dispute involves one team receiving low scores.
Low scores? These latter-day Ciceros? No way.
Note he screams "This is not about fuckin' marijuana." Why do I think this is at least partly about fuckin' marijuana?
Profanity & Brief Sidal Nudity Warning. But worth it. It's like an intellectual/academic version of Hoosiers.
"It's about how you carry yourself."
Preach it, brother.
Please note that not enough people are going to college. Not enough of our non-academically-inclined students are attending these marginal, barely-accredited bottom-rung colleges and receiving the sage wisdom of mutants like this.
Update: Bigfoot lives? And is hoping for tenure?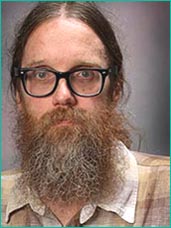 That's not a mugshot. That's a glamor shot from (seriously) Professor/Debate Coach/Asshole Exhibitionist Bill Shanahan's blog. In which you'll find nuggets of wisdom such as this:
This election again offers a choice basically between only two candidates. Each one regularly presents their respective constituency with procedural, policy, and other reasons to vote against them.

Still, recent history suggests only two choices are viable and that most voters will vote for one or the other. Despite differences and disagreements with a particular candidate, voters are more likely to vote for the viable candidate that best represents their beliefs.

Ralph Nader's legitimate response to his critics that he brought out new voters who would not otherwise have voted is no longer relevant. Hillary Clinton and Barack Obama helped bring out new voters who were energized to vote for a historic Democratic president.

Even Ron Paul ended his bid for the Republican nomination. Where his votes will go, though, no one knows. Some experts think they will slide to John McBush. Others suggest Libertarian candidate Bob Barr or Constitution candidate Chuck Baldwin.
Not only is that painfully, retardedly obvious -- only one of the two major candidates has a shot at winning? Fo' rizzle? -- but he shows his nuance with the appellation "John McBush," which is only a few steps up from "Prezmodent Chimphitler McMurderburton."
Also note he's a professor of Speech and Communications, but titles blog-posts with insensible gibberish such as...
On the Precipice of an Historic Occasion
Occasions have precipices? Oh well. He's a professor of Speech and Communication, not Geography and Cartography. Nevermind the fact that he actually means that title to suggest "on the verge of a singularity of pure awesome" (that is, Obama's winning the nomination), so it's a bit strange to be talking about precipices and chasms and cliffs and yawning abysses.
Remember: This is not about the fuckin' marijuana.

Thanks to BRD for that. Awesome.

posted by Ace at
01:54 PM
|
Access Comments