« Top Headline Comments 07-31-08
|
Main
|
McCain Mushy On Taxes »
July 31, 2008
Bush: Iraq Tours Cut Back To 12 Months, More Troops Likely To Be Brought Home
Very good news from the President today on the state of affairs in Iraq and what it will mean for US troops.
U.S. President George W. Bush on Thursday held out the prospect of further troop withdrawals from Iraq as he hailed security gains there and cut the length of combat tours for U.S. forces in the country.

Bush, in an appearance at the White House, said violence in Iraq had fallen to its lowest point since the spring of 2004 and that progress on the ground was showing a "degree of durability."

"We are now in our third consecutive month with reduced violence levels holding steady," Bush said.
From the what if the US wins and war and no one notices department, of the three broadcast networks only CBS covered the Presidents announcement. Apparently gardening and beauty tips or whatever the hell the talk about on GMA and the Today Show were more important.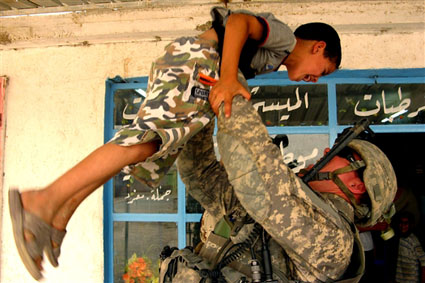 An image the MSM is not interested in...A US Soldier and Iraqi child

posted by DrewM. at
10:40 AM
|
Access Comments