« No Bounce for Obama
|
Main
|
Hundreds of Taliban occupy Afghan villages…for the moment (genghis) »
June 16, 2008
Ummm...maybe we can drill our way out of this
You don't hear too much talk about the Bakken field from democrats these days. I wonder why? Could it be because of this:
...Best of all, the Bakken could be huge. The Geological Survey's Leigh Price, a Denver geochemist who died of a heart attack in 2000, estimated that the Bakken might hold 413 billion barrels. If so, it would dwarf Saudi Arabia's Ghawar, the world's biggest field, which has produced about 55 billion barrels.

The challenge is getting the oil out. Bakken crude is locked 2 miles (3.2 kilometers) underground in a layer of dolomite, a dense mineral that doesn't surrender oil the way more porous limestone does. The dolomite band is narrow, too, averaging just 22 feet (7 meters) in North Dakota.

The USGS said in April that the Bakken holds as much as 4.3 billion barrels that can be recovered using today's engineering techniques. That's a fraction of the oil that Price said should be there, but it's still the largest accumulation of crude in the 48 contiguous U.S. states...
Back in 1995 USGS took a look at Bakken and their estimate of recoverable oil at the time was 1/25th what they now say it is
.
A U.S. Geological Survey assessment, released April 10, shows a 25-fold increase in the amount of oil that can be recovered compared to the agency's 1995 estimate of 151 million barrels of oil...

...The Bakken Formation estimate is larger than all other current USGS oil assessments of the lower 48 states and is the largest "continuous" oil accumulation ever assessed by the USGS...
I'll leave it as an exercise for the readers to research who was president in 1995.
General extent of the Bakken field: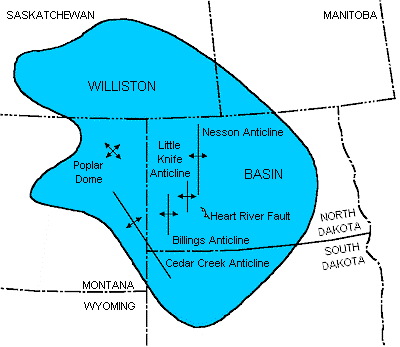 Lands under federal administration: CLICK HERE

posted by Purp at
01:11 PM
|
Access Comments