« Does the Liar Jay Carney Even Read His Own Crap Magazine?
|
Main
|
The Empire Gets Down »
June 12, 2008
Cougar Alert: Two Suburban Moms Accused of Turning Innocent Sleep-Over Into Full-On Sex Orgy
One mom did all the sex stuff -- she wasn't apparently a mother of any of the boys present, so, you know, it's not weird or anything.
But the other one watched, and told the boys not to tell.
Of course one did. Probably one of the ones who didn't get MILF-sex.
Police said two Bucks County moms have been charged after a sleepover involving six teenage boys took an alleged illegal sexual turn.

Angela Honeycutt, 38, and Lynne Long, 45, are facing numerous charges after a series of alleged incidents on April 14.

Authorities said the teens, ages 14 to 16, were attending a sleepover at Long's Lower Makefield home when Honeycutt, a mother of two young children, allegedly had sex with a 14-year-old and performed sex acts with a 15-year-old. Long allegedly watched, listened and instructed the teens not to say anything.

In addition to the alleged sexual assault, detectives said Honeycutt exposed her breasts to the teens; open-mouth kissed some of the minors, entered a shower with a juvenile and engaged conversation of a sexual nature.

The two women are charged with three counts of corruption of a minor, sexual assualt of a minor, and four counts of Being the Greatest Mothers in the Whole Damn World.
Thanks to Maetenloch (not a maniac).
The Criminal Complaint: With more dirty details.
Man, this is one MILF Gone Wild.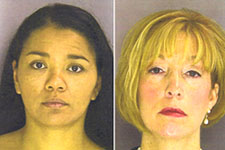 Eh.
As one woman has her name blacked out, that makes me think she's the mother of one the boys at the sleep-over. They're blacking out her name to protect his identity.
One boy -- "M.L." -- is probably Lynne Long's son. Fortunately, he's not involved in any of this, at least not directly. Because, all kidding aside, that would be really bizarre stuff.
As opposed to medium-to-heavy bizarre, as it is.


"Let me ask you -- take a seat, take a seat.
Do you think it's appropriate for a 38-year-old
woman to have sex with someone far too young
to have my level of skill and stamina?"


posted by Ace at
06:06 PM
|
Access Comments