« AoS Lifestyle Crisis In Canada…They've Run Out Of Strippers
|
Main
|
McCain: I Could No More Drill In ANWR Than I Could Drill In My White Grandmother »
June 11, 2008
Good Backgrounder on Obama's "Tangential" Adviser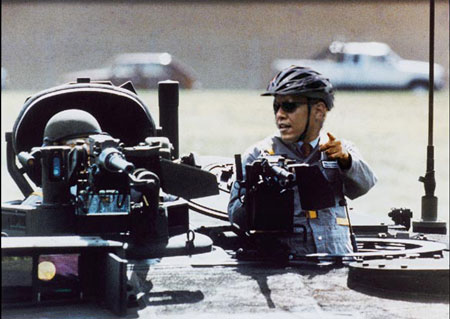 "My conception of the presidency is basically avoiding
difficult work and asking hard questions of my crucial advisers...
I just want to look cool ridin' around in tanks!"
It also has some relevance to that executive-pay argument we had all day yesterday, but don't let's get into that again.
Last month, Sen. Barack Obama turned to James A. Johnson, a former Fannie Mae chief executive and Washington insider since the Carter administration, to lead the vetting of potential running mates for the Democratic Party's presumptive presidential nominee.

But four years earlier, as Johnson was angling for a job if Sen. John F. Kerry (D-Mass.) was elected president, Fannie Mae did some vetting of its own. Company executives had grown so worried about the lucrative consulting deal they had cut with their former CEO that they considered enlisting an outside investigator to comb through the deal "in light of issues that could come up during Senate confirmation . . . or White House review of the consulting contract," according to company documents unearthed by federal regulators.

...

The questions about Johnson began after the Wall Street Journal reported Saturday that he received more than $2 million in home loans that might have been below average market rates from Countrywide Financial, a partner of Fannie Mae and a leading purveyor of the kind of subprime mortgages that spawned a national housing crisis.

Responding to questions yesterday about that article, Obama said: "I am not vetting my VP search committee for their mortgages. These aren't folks who are working for me. They're not people who I have assigned to a particular job in a future administration."

...

As CEO of Fannie Mae, Johnson, a former chief of staff to Vice President Walter F. Mondale and chairman of the board of the Kennedy Center, was the beneficiary of accounting in which Fannie Mae's earnings were manipulated so that executives could earn larger bonuses. The accounting manipulation for 1998 resulted in the maximum payouts to Fannie Mae's senior executives -- $1.9 million in Johnson's case -- when the company's performance that year would have otherwise resulted in no bonuses at all, according to reports in 2004 and 2006 by the Office of Federal Housing Enterprise Oversight.

In a 2006 civil enforcement action against Fannie Mae, another agency, the Securities and Exchange Commission, called the company's 1998 accounting "fraudulent" and said numbers were "intentionally manipulated to trigger management bonuses."

Johnson left the company before it was swept up in an accounting scandal that tarred its reputation, but even during the years of scandal, Johnson was reaping hundreds of thousands of dollars in consulting fees and other compensation, $3.3 million in all between 2001 and 2006.

...


Although OFHEO said Johnson benefited from the earnings manipulations, the agency did not accuse him of participating in them, and the SEC did not accuse him of any wrongdoing. He ended his term as chairman and chief executive of the District-based company in December 1998, before Fannie Mae reported its financial results for that year. In 1999, he served as chairman of the company's executive committee.

A federal regulatory agency suggested that even if Johnson's compensation for 1998 were entirely justified, Fannie Mae obscured its magnitude, disclosing pay of $6 million to $7 million a year in 1998. But Johnson was allowed to defer 111,623 shares of Fannie Mae stock, a move that was relegated to a footnote and not included in the company's summary compensation table.

Total compensation that year was closer to $21 million, according to an internal Fannie Mae analysis cited by OFHEO.

Anticipating questions about the agreement in 2004, Fannie Mae even drafted question-and-answer talking points, including: "Gimme a break. He's hiding his compensation."
And of course he got outsized perks from the company after leaving it in a shambles. Including those now-famous below-market-rate mortgages arranged by helpful executives at Countrywide, a partner of Fannie Mae, and of course a company still seeking to curry favor with powerful Democratic establishment insiders.
As most of the Democratic establishment supported Hillary (at least initially), I wonder if Obama is now forced to recruit from those operatives so tarnished (or inept) that not even Hillary would have them.
Thanks to Mom.
"Tangential:"

Thanks to Slublog for that pic. I checked my email hoping he'd provided that one since I last spoke to him, and what do you know, he did.

posted by Ace at
02:01 PM
|
Access Comments