« A Surge in Media Optimism on Iraq?
|
Main
|
A Conspiracy So Vast: Jay Rockefeller's Slapdash Report Ripped Apart by Arkansas Democrat-Gazette »
June 10, 2008
Obama's Huge, Bloated, Spendy Campaign Previews His Presidency: Spending 114% of What He's Taking In
And it will only get worse once he's got all the trillions of US taxpayer dollars to spend helping Michelle Obama's kids.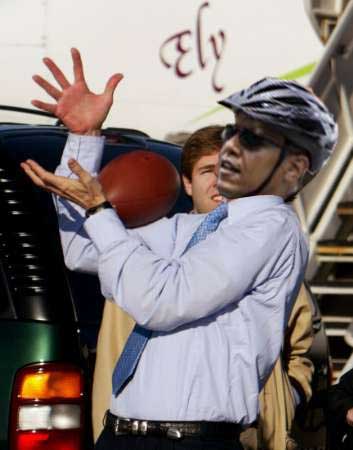 Thanks for both tip and graphic to Slublog.
More: Obama's shopping for a general as his VP.
I think he pretty much has to do this. He needs someone in the military on the ticket to parrot his line that surrender and defeat are actually resolve and victory.
Fortunately he's got a few choices of generals eager to say just that.
Shocker: Obama Actually Takes Time out of his Busy Schedule to Trade Emails With Scarlett Johansson: Awww... the little darlin' actually thinks he does this for all his supporters:
She e-mailed him after some of the Democratic debates, offering her thoughts on his messages and performance. "After the silliness of the last ABC debate," she says of the highly criticized event co-hosted by Charles Gibson and George Stephanopoulos, she wrote to congratulate him on "holding his ground."

His replies have been thoughtful, she says, more than a brief line or two; on the ABC debate, he responded that the questioning was "difficult" and he was being pounded on "one silly question after another."

Johansson is somewhat shocked that he keeps up their back-and-forth correspondence. "You'd imagine that someone like the senator who is constantly traveling and constantly 'on' — how can he return these personal e-mails?" she asks. "But he does, and in his off-time I know he also calls people who have donated the minimum to thank them. Nobody sees it, nobody talks about it, but it's incredible." She adds, "I feel like I'm supporting someone, and having a personal dialogue with them, and it's amazing."

Yeah, it's amazing that a heterosexual male would take the time to respond to a super-luxe-bodied Hollywood starlet.
This is the finger I help Michelle's kids with.
I can't wait to see Obama praised, like a new Jesus, for actually ministering to lepers Herpes risk cases.
Thanks to dri.
Meet the New Politics, Same as the Old Politics: Slate questions whether Obama's dismissive, um, dismissiveness of the dubious history of his latest "tangential, informal friend" really lives up to "The Obama Standard" of rectitude, or even the more plausible Objective Standard.
It doesn't meet either standard, he finds.
Obama's got a lot of chutzpah. He makes a major issue of anyone having CountryWide lobbyists on their staffs, and then, when it's discovered the man helping him make "the most important decision of his candidacy" (the search for a VP) is himself associated with CountryWide, he calls it a distraction and "irrelevant."
Gee, it was pretty relevant when it was Hillary who had the CountryWide connections, Obambi.
Thanks to Hot Air's headlines.
Oh, here's Obama in April, when Countrywide was not "irrelevant" as it suddenly is:
Corrected: I headlined originally that he was spending 114% more than what he was taking in (that is, 214% of what he was taking in), rather than 114% of what he's taking in. I've corrected. Not so much a math error as screwing up the right way to write a percentage in English.

posted by Ace at
04:52 PM
|
Access Comments