« Is that a gun in your pocket or are you just glad to see me? (genghis)
|
Main
|
Anniversary of 'Pingpong Diplomacy' »
June 08, 2008
No Fast Zombies at the Apocalypse [dri]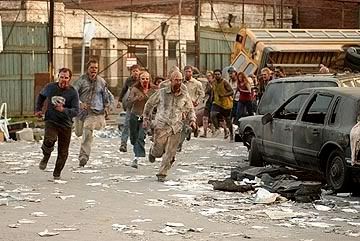 The age old question of whether the undead would have the requisite muscle and tendon integrity to exhibit fast locomotion has been answered. In the early days of the zombie movie genre, zombies were slow due to the realities of rigor mortis, it was a given. Later films depicted them as possessing enhanced speed, super speed if you will. A level of speed that few outside of Olympic class athletes could ever hope to out outrun.
That development changed the zombie equation from a simple game of ammo supply, to one of ammo supply and stamina. Such a metric was self defeating by its very nature. One could not possibly hope to lug around enough heavy shotgun shells and run fast enough to escape the clutches of the fast undead. One had to choose between carrying plenty of bandoleers of 00 12 gage or run away empty handed but not both. In either scenario, a grisly death was likely to follow.

In an interview, the director of several zombie movies including the upcoming "Diary of the Dead" George A Romero scoffs at the notion of fast zombies:
"Their ankles would break," is Romero's stand. "It doesn't make sense to me." He sets things straight with a, well — running joke in Diary of the Dead. Live people discover they have some advantage over the rotted, just in being able to hustle their heels. "The dead move slowly," Romero directs. "But they keep coming."
Romero seems to make sense but he hurts his case as an expert by opening his mouth for too long. Rather than just explain that the reason zombies are scary is because they remind us of ourselves, that anyone can attack anyone else, and that no relationship is sacred, Romero has to interject his politics into the discussion. He believes that in a world overrun by zombies, children and minorities would be hardest hit.
The zombies aren't a plague, but worse — a revolution. In Land of the Dead (2005 ), the zombies seem to have won. The few people left don't stick together — they break into social classes. The poor get eaten first.

posted by xgenghisx at
09:38 PM
|
Access Comments