« Still Evil in Basra
|
Main
|
ABC (Australia) Game Calculates When You Should Die For Using Up Your "Fair Share" of Earth's Resources »
June 01, 2008
Big Fire At Universal Studios
You review one movie. All right, I know, it really wasn't so much a review as just me bitching*.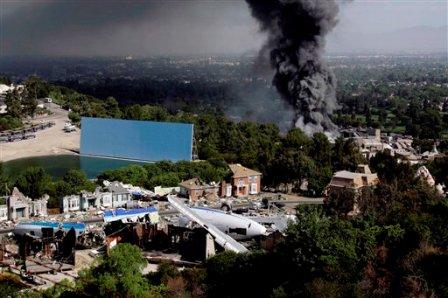 Report says it destroyed a set from Back to The Future... if I recall these things are kind of tourist attractions, but also working areas and such. Also that it is now contained.
*ok, I know the Indy thing was Paramount. I remember seeing the mountain thingy.
Update [Gabe]: JavaJoe discovers something funny about the wire service version:
Also check out his comment #4 for more evidence of wire service tampering.

posted by Dave In Texas at
01:22 PM
|
Access Comments