« The Andromeda Strain Is on Tonight
|
Main
|
You Tube/Google, Viacom and the Ascension of Al Gore. [krakatoa] »
May 26, 2008
Memorial Day 2008…Why They Fight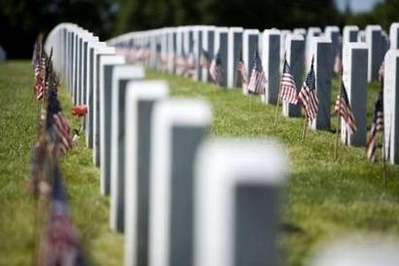 Of course Memorial Day is to remember and honor all those who have given their lives defending this country throughout its entire history. It is however only natural to focus a bit more on those newest heroes who gave the last full measure defending this country in the on going Global War on Terror.
These men and women are worthy heirs to a heritage dating back to Lexington and Concord. It's a heritage that continued through the Civil War, on to WWI, WWII, Korea, Vietnam as well as Cold War battlefields unnamed and dozens of other actions large and small that contributed to the betterment of this country and the world.
Too often we hear the numbers of the those killed and wounded without any context of why they fought and what they accomplished. As this Memorial Day weekend winds up, I'd like to take a moment and point out what those 4,500 Americans helped to accomplish in Iraq alone.

US ambassador: Al-Qaida close to defeat in Iraq

U.S Ambassador Crocker spoke as he visited reconstruction projects in the southern city of Najaf.

"There is important progress for the Iraqi forces in confronting the Sunni and Shiite militias," he said, speaking Arabic to reporters. "The government, the prime minister are showing a clear determination to take on extremist armed elements that challenge the government's authority ... no matter who these elements are."

"You are not going to hear me say that al-Qaida is defeated, but they've never been closer to defeat than they are now," Crocker said.
The U.S. military says attacks have dropped dramatically — down to an average of 41 a day across the country, the lowest rate since 2004 — amid the crackdowns and truces. The U.S. military, backed by Sunni Arab tribal fighters, have scored successes in battling al-Qaida in Iraq and other Sunni insurgents in western parts of the country.
We shouldn't get too far ahead of ourselves in this sort of thing but you have to think when a man as cautious and knowledgeable as Crocker is, is willing to go this far, things must be very bleak indeed for the terrorists.
I don't care if people claim this isn't the 'real' al-Qaida or the one that attacked us on 9/11. The fact is Iraq is where Islamists from around the world went to fight and kill Americans. They wanted to prove that America was still the same paper tiger that turned and ran like we did in Somalia. They paid a very high price to learn that America wasn't going to do that this time.
There's never going to be a VI or VA Day but the fact that the organization and ideology that lead to September 11, 2001 have been dealt such a blow is something to be grateful for.
As bin Laden himself said, "When people see a strong horse and a weak horse, naturally they will like the strong horse."
Thanks to the courage, skill and sacrifice of the fallen and those left behind carrying on the fight, there is no doubt who the strong horse is.

posted by DrewM. at
07:40 PM
|
Access Comments