« John McCain, Liar
|
Main
|
Maxine Waters Threatens to Chavez the US Oil Industry »
May 23, 2008
Royal Navy Epic Fail
HMS Trafalgar, one of the UK's nuclear subs, ran aground during a training exercise in November 2002 (the article says October, but it's wrong). The Royal Navy's investigation was just made public and the culprit is: tracing paper!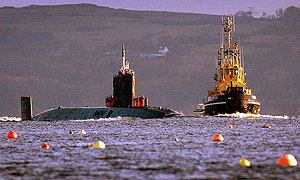 A nuclear-powered Royal Navy submarine needed £5m worth of repairs after it struck the seabed because a piece of tracing paper covered its navigational chart, investigators have found.

The tracing paper had been used on the chart to protect it from being written on, obscuring vital information.

[...]

The report said tracing paper had been a contributory factor in previous groundings and recommended its use should be strongly discouraged.
It noted that the navigation plan had been "flawed both in concept and execution" and the chartwork supervision was inadequate.
Joe Hazelwood is wondering why he didn't think of that.

posted by Gabriel Malor at
11:52 AM
|
Access Comments