« Obama Pisses Off Chick Reporter
|
Main
|
It's Old: O'Reilly Freak-Out
Bonus: Top Ten Media Meltdowns! »
May 14, 2008
Lesson: Ignored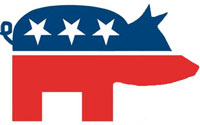 As DrewM pointed out below, the Republicans have gone 0-3 in safe-seat special elections this year. One would think these losses would cause the GOP to actually look at why the base is angry at them and change their free-spending, earmarking ways.
One would think. But this is the Republican party we're talking about. Tom Davis (R-VA) has another explanation for the recent spate of losses.
Inside the meeting, Davis had just presented his colleagues with what he said was a 20-page memo outlining his prescription for a way out of this mess. He did not offer details to the press, yet did not spare the party and the president scathing criticism in his public comments.

"The president swallows the microphone every time he opens his mouth," Davis said.

He believes Bush's staunch opposition to the Democratic housing bill and the SCHIP bill, for example, is hurting rank and file. Look at yesterday's vote on the SPRO, where Republicans defied the president in droves. Lo and behold, the White House says today that it will not veto the bill.

Today is also the day when the House takes up the farm bill, which the president has promised to veto. It's expected that this will become the second veto of Bush's administration to be overridden -- though the farm bill has more of a parochial dynamic than the national political one.
Show of hands. How many of us are upset by the things that Davis thinks we're upset about? Anyone really angry about Bush's opposition to SCHIP or a mortgage bailout? And
how about that farm bill, huh
? Sure, those issues may appeal to a percentage of squishy moderates, but as recent elections should have made all too clear, trying to attract moderates in ways that piss off the base is a recipe for electoral disaster.
Of course, Davis may be ignoring the giant porker in the room for good reason. According to the earmarks database, Davis' name is attached to $48 million in earmarks, and the Heritage Foundation credits him with requesting one of the largest pork earmarks in history.
It seems the siren songs of your tax money are just too sweet for this ship of fools to resist.

posted by Slublog at
04:22 PM
|
Access Comments