« Not Safe For Work Tattoo
|
Main
|
Finally: Wrist Mounted Flame-Thrower »
April 29, 2008
Obama's Speech on Wright, Take Two
UPDATE: Video Added At Hot Air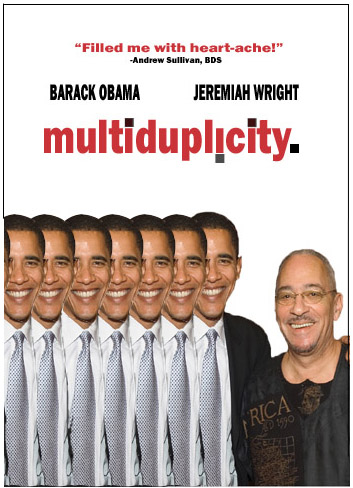 Video available from 20th Century Slublog
Vid Update: Here.
Throwing him under the bus. I could no more disown him than I could disown someone who had become a serious political liability.
This time, the media will crow, he really has put this issue completely behind him.
Of course they said that last time, too, and six thousand times since then.
Wright is a "distraction" from what really matters, he informs us. Wow, I didn't see that one coming.
HAHAHAHA! Claims that Wright's recent "performances" represent a "Change" from the man he'd known for 20 years. Doubles down claiming that he hasn't heard this stuff from Wright before.
Two words:
Bull. Fucking. Shit. This is not a man who is shy about revealing whatever is on his lunatic, racist mind. The idea that Barack didn't know is so preposterous as to make me physically angry.
For the Love of God Himself, This shit was said in Obama's "church" every other Sunday and has always been available on videotape! Obama knew about this stuff for at least a year already (and of course he knew about it for 20 years, but we can definitely pin the last year on him).
Last time he defended Wright by excusing it as the anger of a man who had grown up in a more racist period of history.
Now when it threatens him, the very same statements are "shocking" and "disgusting."
Live Stream in the top banner at FoxNews.
Wait, Wait, Wait: Now that Wright threatens Obama's candidacy, are we not any longer supposed to look at his words "in context" and judge the man "according to his whole career and the good works he's done"?
That was the MSM's claims yesterday, when Obama was still trying to limp along with his Illinois Nazi buddy. Now that Obama himself has declared Wright a non-person, the MSM will, I imagine, suddenly decide he is as well, and of course the focus will be on Wright himself being an evil guy, not on Barack Obama for cultivating a twenty year political/personal/spiritual alliance with him.
Obvious Point: Major Garret is ripping Obama. Notes that Obama only saw this as "shocking" when it threatened to hurt his own political fortunes; when he thought he could ride his way through it, he defended him and engaged in apologism for his vile racism and crank conspiracy theories and vicious anti-American hatred. Only when, as Obama says, Wright shows Obama disrespect by talking publicly does Obama suddenly realize this is all just so awful.
Also notes that Obama's previous claim -- judge the "measure of the man" according to all his beliefs, et. -- is now scuttled, as Wright offered up his measure and it was precisely the measure we took from those "out of context" soundbites.
Shock! Andrew Sullivan is blown away!
That was a very impressive, clear and constructive re-framing of his core message of his candidacy; and a moment given to him by Wright. No one will ever be able to say that Obama threw his father-figure and pastor under the bus. We all know that the reverse happened. We also know that this clear repudiation of Wright's toxic, indeed "ridiculous" views on AIDS, 9/11 and permanent immiseration of people of color could not have happened unless Wright had made it necessary. Skeptics may wonder whether Wright actually deliberately did Obama a favor. I doubt it. But a favor it unintentionally is.

Maybe God does bring good out of bad. Maybe these racial and cultural divides can help us understand how better to move beyond them. Cynics may scoff - and certainly will. They will parse every nuance and try to paint Obama as another cynical, positioning pol. I don't believe it. He has more sincerity and integrity than the vast majority of politicians, more honesty, and more resilience in a very tough spot.

And today, we found that he can fight back, and take a stand, without calculation and in what is clearly a great amount of personal difficulty and political pain. It's what anyone should want in a president. It makes me want to see him succeed more than ever. It's why this country needs to see him succeed more than ever.
Um, this isn't just about Wright. Everyone knows Wright is a racist lunatic. Well, everyone knows now; until yesterday, Barack "Mr. Judgment-Healing" Obama and Andrew Sullivan were still in the dark.
The question is about a 20 year close political relationship with an Illinois Nazi-- and that's a question about Obama, not Wright.
Man, do I hate Illinois Nazis.

posted by Ace at
01:59 PM
|
Access Comments