« Presidential Candidate Makes Monumental Gaffe On Iraq At Today's Hearings
|
Main
|
KosKid: Adolf Hitler, OZ (Original Zionist)
Update: Scrubbed! »
April 09, 2008
Obama's Communist Mentor, Frank Marshall Davis
Red baiting now? Can I sink any lower?
Probably.
I don't consider this particularly low, though. Barack Obama has been swimming in a sea of left radicalism all his life, from his communist dad to his firebrand America-hating preacher to his terrorist buddy Bill Ayers.
Barack Obama is very vague about his actual politics and few have bothered asking. Now comes a well-nigh conclusive case that the "Frank" referred to in Dreams From My Father is in fact Frank Marshall Davis, a noted member of the Communist Party USA.
Horne, a history professor at the University of Houston, noted that Davis, who moved to Honolulu from Kansas in 1948 "at the suggestion of his good friend Paul Robeson," came into contact with Barack Obama and his family and became the young man's mentor, influencing Obama's sense of identity and career moves. Robeson, of course, was the well-known black actor and singer who served as a member of the CPUSA and apologist for the old Soviet Union. Davis had known Robeson from his time in Chicago.

As Horne describes it, Davis "befriended" a "Euro-American family" that had "migrated to Honolulu from Kansas and a young woman from this family eventually had a child with a young student from Kenya East Africa who goes by the name of Barack Obama, who retracing the steps of Davis eventually decamped to Chicago."

...


Dr. Kathryn Takara, a professor of Interdisciplinary Studies at the University of Hawaii at Manoa who also confirms that Davis is the "Frank" in Obama's book, did her dissertation on Davis and spent much time with him between 1972 until he passed away in 1987.
If it's relevant that some Republicans have belonged to the Federalist Society -- or even done as little as show up for the debates they host -- how can it not be relevant that Barack Obama's political education, paternal, "spiritual," and now academic as well, is all straight out of Karl Marx?
Obama's probably not a communist. But he's consistently sought the hard left for his political mentors. Politics, as they say, is the art of the possible, and so far the possible has been merely racking up the most liberal voting record in the US Senate. But his real impulses and his real agenda seem to be more to the left of even that record.
Thanks to Checkers McBamp.
And His Wife, Of Course: Nom de Blog points out Michelle Obama's pie analogy, made in her recent North Carolina trip:
Most Americans, [Michelle Obama] said, don't want much.

"They don't want the whole pie," she told the women. "There are some who do, but most Americans feel blessed just being able to thrive a little bit. But that is becoming even more out of reach."

After law school, she and Barack were beset by loans they'd still be paying had her husband not written two best-sellers, "The Audacity of Hope" and "Dreams From My Father."

Those debts early in their marriage, she said, equips her husband to better understand the problems many Americans face.

Should she become first lady, she said she'd focus on family issues.

"If we don't wake up as a nation with a new kind of leadership...for how we want this country to work, then we won't get universal health care," she said.

"The truth is, in order to get things like universal health care and a revamped education system, then someone is going to have to give up a piece of their pie so that someone else can have more."
A choice nugget there is Michelle Obama's implication that she and Obama's law school debts were somehow unfair. Presumably her notion of a "revamped education system" includes the idea of free higher education, to be paid for by... well, by the great bulk of the country which isn't pursuing advanced degrees but is instead in the workforce providing for their families.
I'm defensive about this because I have internalized it since childhood that pointing out red connections = McCarthyism = badwrong. But while I've internalized that, I'm not finding it especially plausible as I think about it.
Why shouldn't we inquire about a presidential candidate's likely hidden agenda? Is it just the communist/socialist agenda that's specially protected?
The man is running on judgment. I don't trust his and there's good reason to not trust it. And he's running on conveniently-vague "change." I'd sort of like to know what sorts of change he's actually thinking of.
It's one thing to say a Hollywood screenwriter's politics are irrelevant to his capacity to work in the field of his choosing. I find it hard to accept that a politician's politics are similarly irrelevant to his fitness for the office of President of the United States.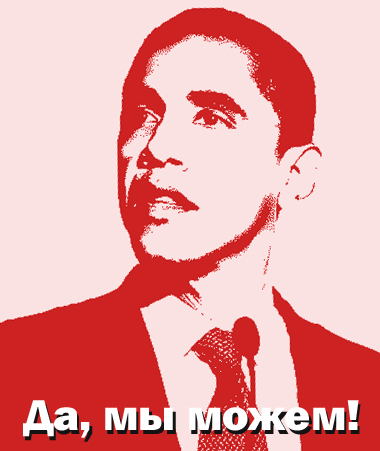 By Slublog. The Russian motto is "Yes, we can."

posted by Ace at
09:50 AM
|
Access Comments