« Hillary Clinton Goes Skydiving Over North Korea
|
Main
|
Dan Abrams: Rush Limbaugh UnAmerican; Must Be Prosecuted! »
March 25, 2008
When It's Too Dangerous For the President, Send the First Lady
Like "they" "always" say.
You know -- "they." They say that. People from the Niagra Falls area. You woudn't know them.
Slublog did a couple of photoshops.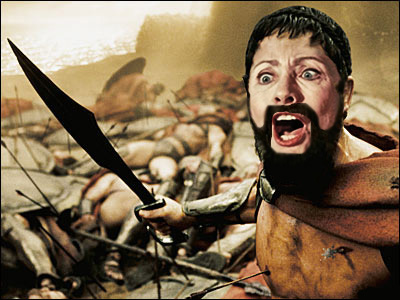 "This... is... CHAPPAQUA!!!"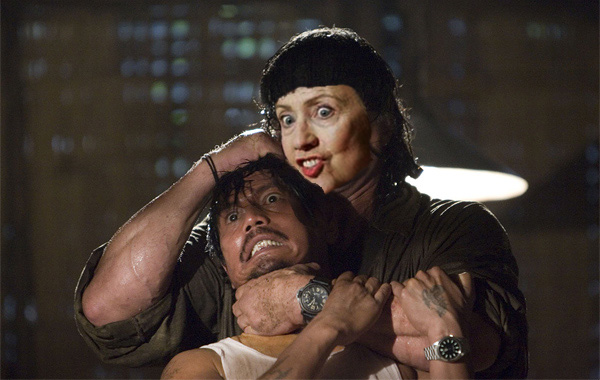 Hillary also emails:
You want the truth? YOU CAN'T HANDLE THE TRUTH!!!

Son, we live in a world that has walls, and those walls have to be guarded by women with balls. Whose gonna do it? You, Ace? You, alexthechick? I have more responsibility here than you could possibly fathom.

You have the luxury of not knowing what I know. That my incursion into Bosnia, while dangerous, probably saved lives. And that my existence, while grotesque and incomprehensible to you, saves lives. I know deep down in places you don't talk about at parties, you don't want me on that wall. You need me on that wall!

We use words like honor, code, loyalty. We use these words as the backbone of a life spent defending something. You use them as a punchline. I have neither the time nor the inclination to explain myself to a man who rises and sleeps under the blanket of the very freedom I provide, then question the manner in which I provide it. I prefer you said thank you, and went on your way, Otherwise, I suggest you pick up a weapon, and stand to post.

Either way, I don't give a damn what you think you are entitled to.
The witness has rights.
COL. TRAUTMAN: If you're sending that many men against Hillary, there's something else you'll need.
SHERIFF: What's that?
COL. TRAUTMAN: A good supply of body bags.
Hillary Goes to a 7-Eleven: Suspense at the Slurpee Machine!
Terror on the Tarmac 2: The Avengening Hillary misbespeakifying as recently as Feb. 29.
Thanks to Slublog again.
Via Hot Air's headlines: "I was sleep-deprived, and I misspoke." Um, is she an insomniac narcoleptic? Because she's told this story a bunch of times and even included it in her book It Takes a Counter-Terrorism Commando.
She also attacks Rev. Wright's "hate speech" there, by the way.
And:
"I am proud of my earmarks. Part of the reason that I won New York by 67 percent are my earmarks."
Isn't that special.
Hillary Derangement Delusion Syndrome? Abe from Commentary posits that Hillary told this Two Fisted Tale of Mystery and Action a few too many times for it to be a lie.
His belief? She's so self-delusional and messianic she really believes this shit actually happened. Everyone is the hero of their life story, they say, and in Hillary's case she's Sgt. Rock. Or the Punisher.
I'm reminded of George Costanza's secret to lying effectively: It's not a lie if you believe it yourself.
Unfortunately I can't find that clip so here's an entirely unrelated one. Although George does lie here. And the "Greatest American Hero" theme is apropos.

posted by Ace at
12:23 PM
|
Access Comments