« Nimoy Rocks
|
Main
|
Onion Debate: Have We Given Robots Too Much Power? »
March 21, 2008
Foreign Fighters In Iraq Fleeing From High Rents Due To Gentrification and US Military, But Mostly US Military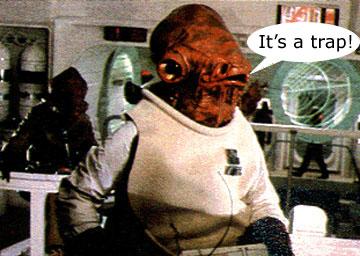 Hillary was right: The war can't be won. She just was a little off on her implied subject.
growing number of foreign fighters are leaving or attempting to flee Iraq as U.S. and Iraqi forces have weakened al-Qaeda and forced its members from former strongholds, U.S. military officials say.

The trend reflects a broad disenchantment among foreign fighters, particularly since al-Qaeda has lost sanctuaries in parts of Baghdad and Anbar, a Sunni province west of the capital, U.S. military intelligence officials say.

"They're being told in their countries of origin by facilitators that, 'Hey, we're basically winning the war against the apostates,' " said Brig. Gen. Michael Flynn, intelligence director for Central Command, which oversees U.S. forces in the Middle East. "They go there and find out it's not quite the case."

Foreign militants constitute about 10% of al-Qaeda's strength in Iraq, but Rear Adm. Gregory Smith, a U.S. military spokesman in Iraq, said they make up about 90% of the suicide bombers.

...

The number of foreign fighters entering Iraq has declined to about 40 to 50 a month from a high of about 120 a month last year, according to Multi-National Force-Iraq. Most enter from Syria.

....

Many were lured with the promise of killing Americans but learned on arrival that their attacks would be directed at fellow Muslims, Smith said. Some were pressured to be suicide bombers, he said.

...

Before February 2007, estimates of al-Qaeda in Iraq's strength varied widely, from 5,000 to 10,000 members, according to U.S. military statistics. By December 2007, the group was estimated to have 2,800 to 3,900 members. The latest estimates put the number at 1,800 to 2,800.
I think this comment from "Nick from Ks." is emblamatic of the left's response:
So in other words, they're going home to their families, their jobs, thier friends while our troops are stuck over there policing a country that would fall into civil war in short order without them?

Hurrah?
"Hurrah?," indeed, Nick.
Patriotism questioned? Check.

Admiral Akbar graphic swiped from the Liberal Avenger.

posted by Ace at
10:19 AM
|
Access Comments