« Guess! That! Party!: For Three Nights Running, NBCNews Fails To ID Spitzer As A Dem
|
Main
|
Afghan Terrorist Prisoner: I Was Tortured... By Harsh Prison Overhead Lights »
March 13, 2008
Obama's Very Middle of the Road Pastor: "Hillary Ain't Never Been Called a Nigger!"
Jeeze, man. I'm sorry I haven't done my part in throwing enough invective at Hillary. Sometimes I get busy, yannow? This busty lesbian porn isn't going to download itself.
I'm so glad that Obama is beyond race and everything. And will heal us with his post-racial paladin power of laying on hands. Obviously, once Obama's president, all the anger and distress over race will be extirpated and we will be born again without racial sin, as if in a Godspell revival starring Lenny Kravitz as Jesus Christ and Lisa Bonet as Mary Magdelane.
Doesn't this statement sorta, um, prove Geraldine Ferraro is right? Isn't the meaning of this statement that Obama is more qualified than Hillary simply because he knows what it means (kinda sorta) to be black (kinda sorta)?
Food for thought from the WSJ: Is Obama a little too quick, and a little too cynical, to play the race card?
No. Of course not. That's just crazy-talk, that's all that is.
We're not suggesting that the Obama campaign has never been justified in crying foul over racially tinged remarks out of the Clinton camp....

But for all of Mr. Obama's soaring rhetoric about the nation's need for a post-racial politics that "brings the American people together," his campaign at times has seemed overly sensitive about race. It also seems to want it both ways. Mr. Obama claims that his brand of politics transcends race, but at the same time he's using race as a shield to shut down important and legitimate arguments.

Already, prominent Obama sympathizers, such as Harvard's Orlando Patterson, are detecting racial overtones where none exist. In a New York Times op-ed this week, Mr. Patterson said a Clinton political ad designed to question Mr. Obama's readiness as Commander in Chief contained a "racist sub-message" because none of the people depicted in the TV spot are black. Counting people of color in an ad about national security is hardly consistent with the Obama theme that "race doesn't matter."
Slublog got an exclusive leak-- the Obama Rolling Stone cover as it was originally supposed to be, featuring the Yoko Ono of American elective politics.
I dig it. They should have gone with this one.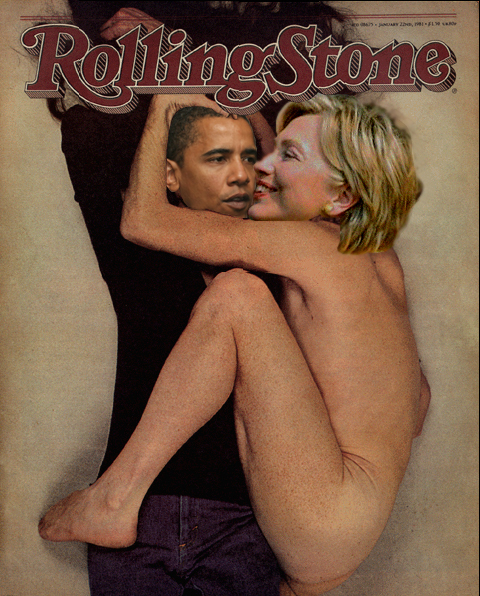 (That's a parody of a famous Lennon-Ono cover, by the way. Scary: the naked body is actually Lennon's. It's the tiny Asian woman in the black sweater.)
God Damn America: Not God Bless America. God Damn America.
I haven't watched this yet, but Obama's very nice Christian pastor who is just wonderful and you shouldn't pay attention to him at all seems rather down on our nation.
Barack Obama: "I don't think my church is particularly controversial."
Of course you don't darling. You don't think taking high tea with terrorists is controversial either.
Power to the people, brother.

posted by Ace at
10:43 AM
|
Access Comments