« China Out Of Iraq!
|
Main
|
An SR-71 Pilot Speaks [dri] »
March 09, 2008
Spc. Monica Lin Brown Earns a Silver Star
The nation's third-highest medal for valor.
Texas girl (Lake Jackson, near Houston). A nineteen year old kid (I'm allowed to say this at my age and I am not objectifying her).
Under gunfire and mortar fire, she helped move wounded comrades to safety, at times shielding them with her own body.
Brown, of Lake Jackson, Texas, is scheduled to receive the Silver Star later this month. She was part of a four-vehicle convoy patrolling near Jani Kheil in the eastern province of Paktia on April 25, 2007, when a bomb struck one of the Humvees.

"We stopped the convoy. I opened up my door and grabbed my aid bag," Brown said.

She started running toward the burning vehicle as insurgents opened fire. All five wounded soldiers had scrambled out.

"I assessed the patients to see how bad they were. We tried to move them to a safer location because we were still receiving incoming fire," Brown said.
She helped move them out of harm's way, eventually some 500 yards, and then treated their wounds and saw them off to safety.
She saved their lives.
The military said Brown's "bravery, unselfish actions and medical aid rendered under fire saved the lives of her comrades and represents the finest traditions of heroism in combat."
Spc. Brown serves in the 4th Squadron, 73rd Cavalry Regiment, 4th Brigade Combat Team.
She did them proud.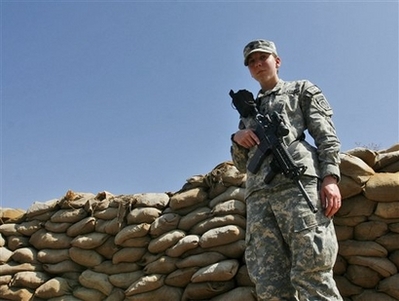 Spc. Monica Lin Brown from Lake Jackson Texas of the 82nd Airborne stands guard at a forwarded operating base in Khost, Afghanistan, Saturday, March 8, 2008. (AP Photo/Rafiq Maqbool)

Well done Specialist Brown. All American.

posted by Dave In Texas at
01:57 PM
|
Access Comments