« Norwegians Can't Party
|
Main
|
The Right Stuff »
March 02, 2008
FOUR HORSEMEN SIGHTED; EARTH CRACKS ASUNDER, LAVA-DEMONS SPILL FORTH; ALL LIVING THINGS SOON TO PERISH IN UNHOLY CONFLAGRATION; BEEN NICE KNOWIN' YA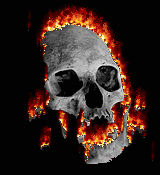 The 1980's Big Hair look is back.
What? Too much drama?
O RLY?
Actually, I don't know what the big deal is. Young men looked so nice back then, with their spiffy floral-pattern suit jackets, lacy scarves, bangly bracelets, dramatic eyeliner, taut hymens, and pink glittery lipgloss.
OK, that's the last time I abuse the flaming skull. Probably. 78% certainty, anyway.

posted by Laura. at
08:42 PM
|
Access Comments