« Ohio Slipping From Hillary... Now 48% - 43%
|
Main
|
NY Philharmonic director sucks Kim Jong-Il's dick »
February 26, 2008
PORTMAN PURRS ABOUT PAWING SCARLETT'S PERKY PUPPIES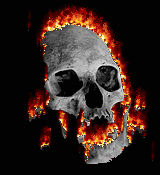 I Bring You The Hard News, People
"Seriously, I would really want to grab Scarlett's breasts," the actress is quoted as saying. "She's got beautiful ones."
This post needs the Drudge siren .gif.
Updated: Thanks to Ace and Slublog for the flaming skull.
Related [Ace]: Turns out Valerie Bertanelli was a dirty, dirty whore. She confesses she cheated on Van Halen, maybe before he cheated on her.
Dude, if a rock star can't keep his squeeze from doing other guys, well... the rest of us are in trouble.
Thanks to Serge.

posted by Laura. at
12:51 PM
|
Access Comments