« Vampire/Werewolf Hybrid Arrested For Statutory Rape
|
Main
|
More Good News: Huckabee Surging in Virgina, Nipping At McCain's Ankles »
February 11, 2008
For New England Haters...
I actually like them, but...
My mom (a Giants fan) sent a couple of pictures which I thought together would make a good photoshop.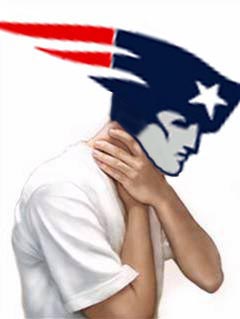 Slublog put it together, but under duress.
PS: Apologies if this has been done before. I don't remember seeing it, though it does seem pretty obvious. A search on Google produced no similar images so maybe it's new... but it's probably not, I admit.
UPDATE [Dave in Texas]: Yeah, I've seen it before. It had Romo's face shopped. And no, I ain't lookin it up.


posted by Ace at
02:51 PM
|
Access Comments