« Senate Breaks Stalemate on Stimulus Bill
|
Main
|
»
February 07, 2008
Looking to the Vice Presidency
Now that the GOP nomination is all but wrapped up, it's time to start thinking about who would be the best candidate for vice president. In the next few weeks, we'll hear about the qualities John McCain's vice presidential nominee must have. The person chosen should be conservative, articulate, young and willing to be an attack dog...etc.
Here at the HQ, we of course think those reasons are important, but we're also semi-pathetic morons who like to look at shiny objects and pretty people, so in that spirit, here is the perfect nominee for vice president.
Palin's name has been mentioned here before. Other than the positives Ferguson mentioned, Palin is actually a good pick for serious reasons. She took on a sitting governor in a primary and beat him soundly. She fought corruption in the state government, is pro-life, anti-tax, a lifetime NRA member and has cut spending in her state. Having her on the ticket would undercut the "making history" soundbite that's bound to come out of the Democrats no matter who they nominate.
And then of course, there's this.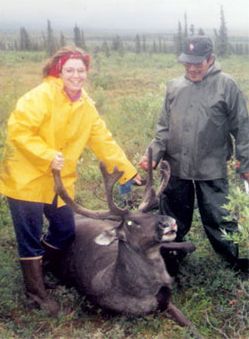 We can do this, people. The only setback I can see is that she's the type of candidate Jack M. is likely to write epic poetry about.
Palin for Vice President.
Update - Here's the text of McCain's CPAC speech.

posted by Slublog at
07:34 PM
|
Access Comments