« Franklin Foer: McCain Would Do A Nixon-Goes-To-China On Global Warming
|
Main
|
"Very Close" »
February 04, 2008
CNN's Photo Editors Pick Their Candidate
CNN has spoken. Judging entirely from the pictures they use to illustrate their stories on Super Tuesday, it's safe to say they are using the power of image-making to endorse a candidate for president.
This is nothing new. Ever since Richard Nixon was told to wear a gray suit before his debate with John F. Kennedy, the media has used framing, camera angle and most recently, photoshop, to achieve the image to manipulate images and with it, public perception.
This year, you'll never guess who they "endorse."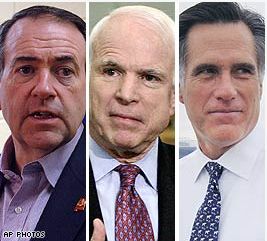 As you can see, they definitely aren't out to make the Republicans look good. Mike Huckabee looks like he's scolding a teenager for listening to devil-music, John McCain looks like a man who's either
really
smelled Ted Kennedy for the first time or has
seen a disturbing picture
and Mitt Romney looks like he's trying to murder a man using only his steely (and hateful...remember. Republicans hate) gaze.
So on to the Democrats.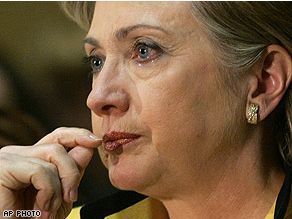 Look at the GIRL! She's CRYING! Look at the GIRL CRY! The "Hillary cries" thing really is
much ado about nothing
, but that doesn't stop our intrepid photo editor from choosing a rather unflattering photo of Clinton. She looks like Michael Corleone deciding whether to kill Fredo.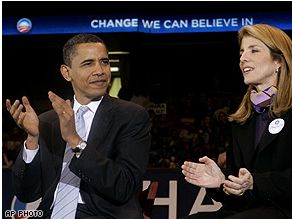 That leaves Obama. Look at him. Confident. Firm. And note the all-too-perfect placement of the campaign slogan. Plus, he's next to a Kennedy. So Obama = Kennedy with change and believing and puppies, rainbows and happiness. And change.
In short:
-Republicans don't smile.
-Hillary cries
-Obama likes change and Kennedys like Obama
Vote accordingly, America!

posted by Slublog at
05:15 PM
|
Access Comments