« Today Is The 22nd Anniversary Of The Challenger Explosion
|
Main
|
Fake "Protestors" Do What Real Protestors Do Best »
January 28, 2008
Proxy Fight At The New York Times
It looks like investors might be starting to get restless with the performance of Pinch Sulzberger.
Given the structure of the Times Company board, Pinch and his family are in no danger of losing control of the company but it seems that declining stock prices and lack of growth are starting to get the attention of investors.
Firebrand Partners' founder Scott Galloway said in his letter that he and Harbinger had no intention of changing the Times' two-class share structure, which allows the Sulzberger family to maintain control of the company.

But Galloway added that the current board, "while impressive in stature, has not been effective in inspiring the requisite bold action this media environment demands."

Galloway said in his letter that he wanted to meet with Times managers to discuss an "optimal capital structure" for the company and to find a way to transform the Times "from a low growth company to a robust firm that is both the newspaper of record and the most trusted starting point on the Internet."
Over the past 52 weeks it traded as high as $26.90 last February and as low as $14.01 last week.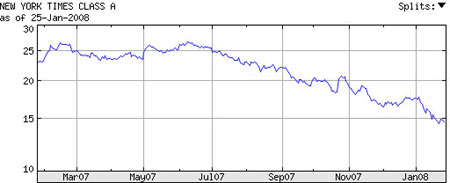 Of course, a proxy fight made me think of the movie "Other People's Money" but I couldn't find a clip talking about that on Youtube. But below the fold is a great clip, mostly because Penelope Ann Miller looks really hot in it.
There are a few bleepable words, so use your judgment before playing it at work.

posted by DrewM. at
02:08 PM
|
Access Comments