« On Stealing Jokes: A Chill Wind
|
Main
|
Yasser Arafat's Post-9/11 Publicity Stunt a Fake; Reuters, AP Complicit »
January 26, 2008
What Light Through Yonder Window Breaks?
Hamas recently held a little show for their media collaborators to protest Israel's cutting off of electricity and limiting fuel shipments to the Gaza Strip. Apparently those damn Jews won't just keep providing aid to the people who are trying to kill them.
To demonstrate the harshness of Israel's response, the terrorists held meetings of their 'legislature' by candle light.
Except take a look at the curtains blocking out the sunlight on the left side of the picture.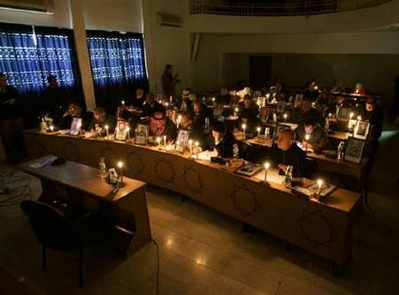 Palestinian lawmakers attend a parliament session in candlelight during a power cut in Gaza January 22, 2008. REUTERS/Mohammed Salem
More pictures and the full story of how the terrorists and their friends in the media teamed up against Israel at Solomonia.
I guess the only question left is, do these photographers draw a check from Hamas or do Reuters and AP consider their salaries in-kind contributions?
UPDATE: Israel never actually cut off the power it ships to Gaza, just the fuel for the plant that produces most of the area's power.
Thanks to LaruaW for the prompt

posted by DrewM. at
02:03 PM
|
Access Comments